Engineering & Construction
Environment
Telecommunications
Renewable energies
Ventures
Real estate
Explore our business areas
Photo by Luís Pinto, finalist of the Emergentes dst Award 2011.
Respect. (from the lat. respectu) n. 1. respect; 2. consideration; high regard; 3. deference; compliance; veneration; 4. honour; worship; 5. relation; refererence...
We believe that everyone should be respected for their work, for their attitudes, opinions and options.
Photo by Mila Teshaieva, finalist of the Emergentes dst Award 2011.
Rigor. (from the lat. rigore) n. 1. harshness; strength; 2.fig., severity; punctuality; accuracy.
There is no "more or less levelled", "more or less upright", "more or less clean" or "more or less safe", but rather "levelled", "upright", "clean" and "safe". The rigour is reflected in our procedures, in time and in the rules to follow. In the light of moral and principles, being severe means being rigorous.

Photo by , finalist of the Emergentes dst Award 2012.
Passion. (from the lat. passione) n. 1. intense and usually violent feeling (affection, joy, hate, etc.) which hinders the exercise of impartial logic; 2. derived from a feeling; 3. great predilection; 4. partiality; 5. great grief; immense suffering...
Under the sign of passion – a text of the Portuguese poet Regina Guimarães – is our icon. Passion is to reveal great enthusiasm for something, favourable encouragement or opposite to something.
It is the sensibility transmitted by an architect or engineer through work.
Passion is the dedication to a project. Passion is a state of warm soul.
Photo by Jakub Karwowski, finalist of the Emergentes dst Award 2012.
Loyalty. (from the lat. legalitate) n. the quality of being loyal; fidelity; sincerity.
Respect for the principles and rules that guide the honour and probity. Faithfulness to commitments and agreements undertaken, staunch character.
To remain loyal to the business partners because we depend on them and they depend on us.
Being trustworthy for being loyal.
Photo by Ian Lieske, finalist of the Emergentes dst Award 2011.
Solidarity. (from the lat. solidare) n. 1. the quality of being solidary; 2. reciprocal responsibility among the members of a group, namely social, professional, etc.; 3. sense of sharing another's suffering.
Being solidary is being a friend, offering our hand with genuine generosity and bringing joy and human warmth to those who, somehow, are marginalized. Being solidary is being more human. A solidary company is recognized as a fair and non-selfish company. A solidary company is a preferred choice in business. It is a more competitive company. Volunteering is a vehicle to solidarity. It is modern, fair, cultured, friend, it is a noble gesture of moral elevation.
Photo by Clarence Gorton, finalist of the Emergentes dst Award 2012.
Courage. (from the lat. coraticum) n. 1. bravery facing danger; intrepidity; to have audacity; 2. moral force before a suffering or setback; 3. [fig.] to input energy when performing a difficult task; perseverance...
Courage is essential in our life. Courage to face less pleasant situations when complex issues come up, not expecting random resolutions.
It is a value that we must highlight as opposed to the fearful, cowardly and laziness.
The courage to react to criticism not with an attitude of demotivation or sadness, but rather to search for the means and the action to overcome its own reason. This kind of courage, which is also an intellectual courage, is highly recommended.
Photo by Filipa Alves, finalist of the Emergentes dst Award 2011.
Ambition. (from the lat. ambitione) n. 1. vehement desire of wealth, honours or glories; 2. expectation about the future; aspiration; 3. lust; greed…
Vehement desire to achieve a particular goal. Ambition not to resign ourselves. Ambition to take the best potential from ourselves. Ambition to deserve ourselves. Ambition to be athletes in our top-level competitive jobs. Ambition to beat our brands. Ambition to get the best deals with the maximum value, due to the high levels of proficiency and efficiency.
Photo by Scarlett Coten, finalist of the Emergentes dst Award 2011.
Good Taste. (from the lat. gustu) n. 1. ability to appreciate aesthetic value or standards of something; 2. elegance, refinement, aesthetic sense; 5. particular touch given by an artist to his works.
We decided to build the company's economic foundations under a cultured, cosmopolitan and cool image. Because it is a charming state of being. Good taste because we are sustainable and we respect the planet. Good taste because we are sensitive. Good taste just because.
Photo by Karl Erik Brondbo, finalist of the Emergentes dst Award 2011.
Responsibility. (from the lat respondere) n. the trait of being answerable to someone for something or being responsible for one's conduct; a form of trustworthiness.
We must be certain that, before a choice, we chose what is best for both of us and not just the best for each one. Each employee is responsible for his negotiated activity and co-responsible if the co-worker does not fulfil his own task, thus preventing the common goal. A team is a set of individuals - is a whole. In the business game, as in social or family contexts, everyone must comply with their own relative position and we shall not permit that one of ours fails to be in our team.
News
Press Room
Work and be happy? There are companies that have a stake in their employees' happiness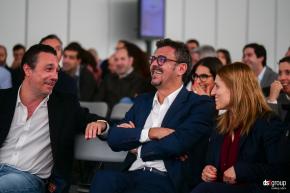 02/04/2019
Work and be happy? There are companies that have a stake in their employees' happiness
Público
What does happiness have to do with creativity, less stress and more productivity? Some entrepreneurs respond in the 4th edition of the Norte Yoga, which takes place at the Porto Business School.
On the fourth floor of the Porto Business School (PBS) in Matosinhos, employees enter a room overlooking a garden and sit on the red rugs arranged in checked pattern. Yoga teacher Catarina Santos Ferreira guides us: "Let's sit cross-legged, with our backs upright. Shut our eyes gently, focus on our breathing, and gradually feel lighter".
This is one of the classes that the Portuguese Yoga Confederation gives on Fridays, at lunch time, to about 15 employees of the business school and two dozen other workers from Sonae in Matosinhos. "To help overcome stress, to work on ergonomics, on concentration, effective time management, to recharge batteries," explains the teacher who is also responsible for the organization of the 4th edition of Norte Yoga, whose theme is "Productivity, Excellence and Happiness", that takes place on Friday and Saturday at PBS.
This is a forum for sharing best practices for companies and public and private organizations, where speakers from not only Sonae (to which PÚBLICO belongs), Amorim Cork Composites, Altronix, Casa de Mateus Foundation will be present, but also from health organizations such as IPO-Porto, the Portuguese League Against Cancer, the S. João Hospital, amongst others.
For two days they will talk about stress management, environmental sustainability, ergonomics, knowledge sharing and social responsibility. Yoga can be a connecting link, and PBS employees who have been doing these classes since 2017 know it well. "It contributes to happiness in the work environment," says Márcia Coelho, responsible for personnel management at ​​PBS, who joined the initiative from the beginning.
"PBS believes that the practice of yoga contributes to physical, awareness and emotional levels", continues Márcia Coelho, just a few minutes before starting the class. And considers that employees can only gain from the practice, because "it's a cut off from a week of work, of stress." For example, in her case, she feels more relaxed, focused, and more productive. "When I do not practice, I actually feel that something is amiss", she confides.
Martim Leal, a marketing analyst, and Mafalda Ferreira, PBS's communications officer, share the same view. "I was already into meditation. But it is in yoga that I find genuine meditation", says Martim Leal as he prepares to enter the room. The benefits do not stop here. "I improved my posture, I have less back pain, and I have more flexibility", he says with satisfaction. Mafalda Ferreira feels different when she does attend the class: "When I go, I have greater concentration, because I am more relaxed and I can then place matters into better perspective. It contributes to my productivity", she clarifies.
Ana Martins, a teacher and director of the communication department of the Portuguese Yoga Confederation, refers to the benefits felt by those who practice yoga according to a questionnaire that the organization handed out, in November 2018, to enthusiasts from some of the organizations where the institution teaches, such as Sonae, Intermarché, IPO-Porto and the University of Porto. In it, 96% of the 78 respondents said they had more energy and vitality, and feel more relaxed after yoga class. 94% feel healthier and 87% happier. Another 77% said they manage stress better. As for the impact of yoga on daily work, 83% feel that, in general, the work day is better on the days when they practice it.
Happy company
Also, entrepreneurs believe that well-being and happiness are pillars of a successful business. For example, Altronix has been distinguished several times as a "Happy Company" and is considered one of the 10 happiest in Portugal - according to Exame magazine and the Expresso newspaper - for the initiatives it introduces amongst employees such as celebrating the summer in slippers and shorts. "I realized that someone who is motivated and happy, creates more value and produces more. And it is not only direct productivity, rather, he will be more proactive and not reactive, and will suggest new work methods", justifies Rui Fonseca, founder of the labelling company.
The businessman is well aware of the importance of happiness and motivation in the workplace because he remembers that when he was 13 years old he worked in a car workshop where "the environment was very bad and an order was accompanied by a smack", he recalls.
José Teixeira, chairman of DST Group, an engineering and construction company from Braga, also believes that by providing beauty and dental appointments and having a health centre on the premises, he contributes to the happiness of the approximately 1600 employees. And, as a consequence, he contributes to their heightened creativity, competitiveness and productivity, he says.
In this case, the workers go to the theatre or see an exhibition at the company's gallery, the Zet Gallery. The businessman believes that "it is the level of culture of the group, the capacity for creativity, reading, going to the theatre, listening to music" that makes the company what it is today. To the point of opening its scope to other areas besides civil construction, such as renewable energies, telecommunications, etc.
Rui Fonseca, from Altronix, says that it is happiness and well-being that are part of the company's productivity and growth. "We have huge success because we have a motivated team that flies the Altronix flag", he says with satisfaction, for receiving, for the second consecutive year, the award "happiness in the feminine", for ensuring gender equality at the company.
"All this requires great effort on the part of the company to provide activities and methods so that people come to work with a smile on their faces", he clarifies. "And some measure of madness and delirium", adds José Teixeira, who afforded a post graduate course in behavioural economics to 25 company engineers and economists. "When they complete the course, they will have more pleasure and moments of happiness", he believes.
For Carla Naia, a lawyer in labour law, there is a need to regulate and legislate on the right to disconnect, that is, the worker's right to rest and leisure, at a time when people are, through new technologies, linked to work, even after hours. With regard to activities offered by the companies, she also notes that "it is not appropriate to impose a duty of obedience on the part of the employee to participate in such actions or, at the very least, the option, duly justified, to not participate in them, must be given". This is because, she says, these "exceed the contractual object, that is, the activity that was contracted".