Engineering & Construction
Environment
Telecommunications
Renewable energies
Ventures
Real estate
Explore our business areas
Photo by Luís Pinto, finalist of the Emergentes dst Award 2011.
Respect. (from the lat. respectu) n. 1. respect; 2. consideration; high regard; 3. deference; compliance; veneration; 4. honour; worship; 5. relation; refererence...
We believe that everyone should be respected for their work, for their attitudes, opinions and options.
Photo by Mila Teshaieva, finalist of the Emergentes dst Award 2011.
Rigor. (from the lat. rigore) n. 1. harshness; strength; 2.fig., severity; punctuality; accuracy.
There is no "more or less levelled", "more or less upright", "more or less clean" or "more or less safe", but rather "levelled", "upright", "clean" and "safe". The rigour is reflected in our procedures, in time and in the rules to follow. In the light of moral and principles, being severe means being rigorous.

Photo by , finalist of the Emergentes dst Award 2012.
Passion. (from the lat. passione) n. 1. intense and usually violent feeling (affection, joy, hate, etc.) which hinders the exercise of impartial logic; 2. derived from a feeling; 3. great predilection; 4. partiality; 5. great grief; immense suffering...
Under the sign of passion – a text of the Portuguese poet Regina Guimarães – is our icon. Passion is to reveal great enthusiasm for something, favourable encouragement or opposite to something.
It is the sensibility transmitted by an architect or engineer through work.
Passion is the dedication to a project. Passion is a state of warm soul.
Photo by Jakub Karwowski, finalist of the Emergentes dst Award 2012.
Loyalty. (from the lat. legalitate) n. the quality of being loyal; fidelity; sincerity.
Respect for the principles and rules that guide the honour and probity. Faithfulness to commitments and agreements undertaken, staunch character.
To remain loyal to the business partners because we depend on them and they depend on us.
Being trustworthy for being loyal.
Photo by Ian Lieske, finalist of the Emergentes dst Award 2011.
Solidarity. (from the lat. solidare) n. 1. the quality of being solidary; 2. reciprocal responsibility among the members of a group, namely social, professional, etc.; 3. sense of sharing another's suffering.
Being solidary is being a friend, offering our hand with genuine generosity and bringing joy and human warmth to those who, somehow, are marginalized. Being solidary is being more human. A solidary company is recognized as a fair and non-selfish company. A solidary company is a preferred choice in business. It is a more competitive company. Volunteering is a vehicle to solidarity. It is modern, fair, cultured, friend, it is a noble gesture of moral elevation.
Photo by Clarence Gorton, finalist of the Emergentes dst Award 2012.
Courage. (from the lat. coraticum) n. 1. bravery facing danger; intrepidity; to have audacity; 2. moral force before a suffering or setback; 3. [fig.] to input energy when performing a difficult task; perseverance...
Courage is essential in our life. Courage to face less pleasant situations when complex issues come up, not expecting random resolutions.
It is a value that we must highlight as opposed to the fearful, cowardly and laziness.
The courage to react to criticism not with an attitude of demotivation or sadness, but rather to search for the means and the action to overcome its own reason. This kind of courage, which is also an intellectual courage, is highly recommended.
Photo by Filipa Alves, finalist of the Emergentes dst Award 2011.
Ambition. (from the lat. ambitione) n. 1. vehement desire of wealth, honours or glories; 2. expectation about the future; aspiration; 3. lust; greed…
Vehement desire to achieve a particular goal. Ambition not to resign ourselves. Ambition to take the best potential from ourselves. Ambition to deserve ourselves. Ambition to be athletes in our top-level competitive jobs. Ambition to beat our brands. Ambition to get the best deals with the maximum value, due to the high levels of proficiency and efficiency.
Photo by Scarlett Coten, finalist of the Emergentes dst Award 2011.
Good Taste. (from the lat. gustu) n. 1. ability to appreciate aesthetic value or standards of something; 2. elegance, refinement, aesthetic sense; 5. particular touch given by an artist to his works.
We decided to build the company's economic foundations under a cultured, cosmopolitan and cool image. Because it is a charming state of being. Good taste because we are sustainable and we respect the planet. Good taste because we are sensitive. Good taste just because.
Photo by Karl Erik Brondbo, finalist of the Emergentes dst Award 2011.
Responsibility. (from the lat respondere) n. the trait of being answerable to someone for something or being responsible for one's conduct; a form of trustworthiness.
We must be certain that, before a choice, we chose what is best for both of us and not just the best for each one. Each employee is responsible for his negotiated activity and co-responsible if the co-worker does not fulfil his own task, thus preventing the common goal. A team is a set of individuals - is a whole. In the business game, as in social or family contexts, everyone must comply with their own relative position and we shall not permit that one of ours fails to be in our team.
News
Press Room
Books, paintings and work: The secret of José Teixeira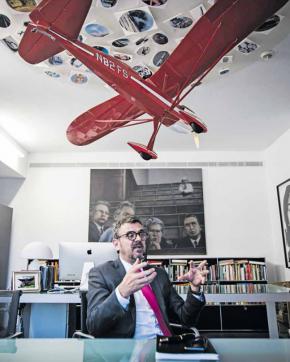 21/04/2019
Books, paintings and work: The secret of José Teixeira
Público
dst group does not support culture because it is a good construction company, but it is rather a group in the construction field because it has always been committed to culture. The group chairman convinced everyone to believe it.
A few weeks before Christmas, the poetess and playwright Regina Guimarães needed to repair an old piece of wooden furniture of high sentimental value. She had no references at all in the area of ​​carpentry, and did not even know who to ask. Until she remembered José Teixeira, who presides over a construction group, and who she has known "for many years" because he is one of the main promoters of the Theatre Company of Braga, for being patron of Theatro Circo. dstgroup also promotes the book fair, has set up several prizes for literature (the latest was less than a month ago and distinguishes Angolan poetry and prose), has sponsored Encontro de Imagens for many years, and is the main shareholder of one of the most important plastic arts venues in Braga, the zetGallery. Yes, José Teixeira is a well-known name in cultural circles. In the 2019 budget, he itemised one million euros for cultural, social and environmental patronage initiatives. He took Regina's phone call and asked the Head of Carpentry to get someone to talk to the lyricist.
It was Cândido Barros who took on the repair of the rotten wood of Regina Guimarães's piece of old furniture. "My boss, the engineer Custódio, told me that she was a poet. I gathered the courage and asked her for a poem. I really like to read and I love poetry", the carpenter, who has worked in dst's factories for more than 20 years, told P2. The reward for his boldness came a few days later, with the poem in a beautiful frame that the company chairman presented to him at the very crowded Christmas party.
Regina Guimarães, on the telephone, confirms: the work of the carpenter Cândido was "5, 50, 5 thousand stars". What impressed her, however, was the request he made to her and which she tried to accommodate in an acrostic. "I was more pleased to write this acrostic than I would have to write the praise of a king," said Regina Guimarães, who does not spare praise for the group chairman's attitude. "There is, in fact, an interest in culture and the arts that is organic, which is generalized, from the group chairman to the factory worker and the carpenter", I can confirm.
José Teixeira was obviously happy with this example. Because it is the sign that the policy he has been implementing at the company is now progressing along on its own path. He was looked at sideways as he began to ask his closest employees to read a book every 15 days and to make a summary or presentation on it before meetings. "Here comes Zé with his shit", they thought, they said. A request by the company chairman is an order. But the order became a habit. The habit became a need, with more and more followers. The group library keeps growing. For the library, for schools, for the prizes it sponsors, the group buys 12,000 books a year. "We may not have time for everything. But if you don't have time for reading, you don't have time for anything", says the company chairman.
José Teixeira receives P2 at dst's corporate campus, in Palmeira, a parish on the outskirts of Braga. At the reception with a huge ceiling height, a large photograph, where he appears in the centre flanked by six workers on each side, causes an impact. It is a staged "Last Supper", commissioned by the group from the photographer Ângela Braga. On a mural outside the reception, Samuel Beckett's phrase stands out: "No Matter. Try Again. Fail Again. Fail Better".
This is also the motto of José Teixeira. The 53 year old civil engineer, who took over the company, founded by his father, about 30 years ago, has enrolled this year in another post – graduate course. "It is normal not to know things. Entrepreneurs do not want to go to school because it shows they do not know. But nobody knows everything and there are always things to learn. My engineers have already formed four classes at Porto Business School", he says proudly. Along with 24 other staff members of the group, José Teixeira will attend 375 hours of "Human training for senior staff", a course tailor-made for dst, organized by the Catholic University of Braga. On Friday and Saturday mornings, they will attend a multidisciplinary training, which links neurosciences, psychology, philosophy, humanities. "Technical know-how is not enough, it is necessary to open the spirit that only the humanities can achieve", says José Teixeira. And he concludes: "Sometimes, I'm asked why I'll be paying for 24 employees to be absent from work for one day a week, and the cost it represents. I answer that what should be tallied is the cost of not knowing, but nobody knows or wants to do the maths".
Crushing stone at 7 years of age
The company campus occupies more than 1200 square meters. It accommodates a quarry, the concrete batching plant, the engineering, the specialty, the foundations and geotechnics, the telecommunications companies, and Bysteel, the company that is already one of the largest exporters of Braga, which is dedicated to aluminium projects. It also houses a nursing centre, manicure and hairdressing services, leisure areas for the workers (in the canteen, which is called a restaurant here, there is a mixer for DJ candidates to put on the music they want) and even a soccer field, on whose boundaries we found Hortelã and Manjerico, a pair of donkeys that Teixeira offered to his wife and which today are a kind of ex-libris of the company and the exclusive occupation of an employee.
We started the visit to the campus at the quarry. It was in a quarry, in the Alto Tâmega region, that José Teixeira began to crush stone at age seven, next to the canteen that his mother ran there. His father had emigrated, he and his brothers helped in whatever way they could. That was when he finished elementary school, and the family moved to Fraião, in Braga, where José Teixeira learned to want to fail, to try harder and harder, to try to do better. He attributed this will to the Gulbenkian's van, which brought home the "escape" he needed. "I liked to read, because I stopped being who I was to be the hero of those books. That implied a direct escape from the misery, I put myself in another role", he explains.
The quarry is in operation, there are trucks manoeuvring, there is dust (inevitably) but there is no litter on the ground. "Everything has to be always clean and organized. There is no dictatorship of beauty, no closed formulas, but there is an imposition in the defence of the beautiful. This is just as valid for an office as for a site yard", warns José Teixeira. The walls of the offices look more like art galleries. The company has more than 800 works of art in its inventory - the inventory was made by the Zet Gallery, a venue in the centre of Braga founded by the company, and which José Teixeira admits is his "alter ego". "The chairman of a board of directors of a group with 1500 employees and with a revenue of 340 million euros cannot say everything that comes to mind. But at Zet he can do whatever he wants", he pitches, with a playful smile.
In the egg and chicken story, José Teixeira has no doubt who came first. It is not because he has always closed the years with positive growth rates that he can continue to support cultural activities and invest in the culture of his nearly 1500 employees. It is, on the contrary, because he has been involved in various patronage initiatives and contributed to the cultural training of his workers that the group has seen growth figures of two digits every year. Put another way: dst group does not support culture because it is a good construction company. Dst is a solid business group because it grew by building culture. "I realized that culture is a variable that fosters competitiveness", he says. "Before I was an esoteric. Today everyone realizes that this works. I say it's because of economic interest and I'm more respected. But obviously, it's for pleasure", he concludes. A pleasure that nevertheless brings him good results. The group has grown in all business areas, has more assets than debt.
Stopping to think is mandatory
Every 15 days, meetings begin with book reviews. Every Thursday, Teixeira reserves time in his schedule to respond to employees who want to contact him, make any kind of criticism and suggestions. "I used to know every person who joins the company. It's harder now. Only last year we created 280 new jobs", he says. But anyone can contact him. In the week that P2 interviewed him, he had received an email from a yard worker with a proposal. "He noted that the company had many trucks, some machines, and many cars and bought many tires. He wondered if it wasn't worth it to have our own workshop in here. He stopped to think, and just as well. I will analyse the proposal", admits the group chairman.
Stop to think. It became mandatory last year. Half an hour a day, at the time of day of every worker's choosing, to do what he wants. Browse on Google, read a book, stretch your legs, look in the mirror (there are many scattered around the company, all with the question "why not me?"). "After they stop, they work better", he says.
Inês Núncio, director of operations at Bysteel, stresses the environment of freedom and creation that can be felt in the company. She confesses that she did not find this attitude of the group chairman odd for very long. Even sooner, it became ingrained. She likes to comment on books, think aloud, and respond to the creative stimuli she receives from above. And that she herself began to return, and pass on in all directions. During the visit to the factory, in one of the rooms we happened upon a photograph where Inês appears dressed as Maria Eduarda, from Os Maias, in a photographic production made by and for the workers. "It's a pleasure to work in a company like this, we are particularly pleased with its accomplishments", concedes this civil engineer working at dst for more than a dozen years.
One of the last pleasures of the company in which she works was the contract that the French giant Vinci commissioned from Bysteel to carry out the aluminium cladding of the Tour Trinity, in the La Defense area of ​​Paris. In addition to cladding the tower, dst also amazed the client by displaying how surplus building materials can be given a second life. The beam flanges and webs and other leftover materials of the office floors steel structure were reused by the Portuguese artist Miguel Neves Oliveira, of the Zet Gallery, for the creation of two works of art. Oliveira was one of the four artists who last October spent two weeks at the Avenida Central, in the heart of Braga, developing live works of art from industrial waste collected by dst group.
"It gives me pleasure to be here talking to a client like Da Vinci and showing them what we do. We stroll through the campus, as I am now doing with you, and I assure you that when we start talking business and numbers, the stance will be different", he clarifies. The "here" to which José Teixeira refers is a special place. It was baptized only at the end of last year, but it is being gradually worked on, built, for much longer. It is called the Jardim Teresa Gonçalves Gomes, named after the group chairman's mother.
It is a garden full of nooks (the businessman calls them spots), still under construction. There is room for anyone who wants to plant something they like. It has a cactus passerelle, inspired by the Majorelle garden in Morocco. It has a spot "Miss Julie", inspired by the Swede Strindberg's film, to honour the theatre and women. It has the spot Amadeo Souza Cardoso, one of the artists that he likes most and the spot Bartolomeu Dias - "he's my superhero, my real Marvel", explains José Teixeira. It has the Pine and Cork oak spot, and it is in the shade of these trees that there is a table and some chairs that allow one to contemplate. Stop to think.
José Teixeira thinks that it is because he is always answering the question "Why not me?" - which he had reproduced on all the mirrors of the company - that he got to where he is today. It is no longer just a construction company. It is the operator of the operators. "Before, this was for the large utilities. And suddenly we are the leader in the telecommunications wholesale market. Today I can say that my company is the most qualified to manage submarine cables", he warns.
The sky seems to be the limit. And it is. "I can tell you what my dream is: to manage a microsatellite infrastructure. I want to be in space. It is a piece of madness, but my life was made like that, with unforeseen black swans ... and that went well. Others turned out bad, but patience. We know we've failed better."
Why not me?
Workers at dst are invited all the time to wonder about how far they can go and the paths they can follow.
Art
Jose Teixeira's office is full of photographs and sculptures. The artists most represented are Miguel Palma and Alberto Péssimo.