Engineering & Construction
Environment
Telecommunications
Renewable energies
Ventures
Real estate
Explore our business areas
Photo by Luís Pinto, finalist of the Emergentes dst Award 2011.
Respect. (from the lat. respectu) n. 1. respect; 2. consideration; high regard; 3. deference; compliance; veneration; 4. honour; worship; 5. relation; refererence...
We believe that everyone should be respected for their work, for their attitudes, opinions and options.
Photo by Mila Teshaieva, finalist of the Emergentes dst Award 2011.
Rigor. (from the lat. rigore) n. 1. harshness; strength; 2.fig., severity; punctuality; accuracy.
There is no "more or less levelled", "more or less upright", "more or less clean" or "more or less safe", but rather "levelled", "upright", "clean" and "safe". The rigour is reflected in our procedures, in time and in the rules to follow. In the light of moral and principles, being severe means being rigorous.

Photo by , finalist of the Emergentes dst Award 2012.
Passion. (from the lat. passione) n. 1. intense and usually violent feeling (affection, joy, hate, etc.) which hinders the exercise of impartial logic; 2. derived from a feeling; 3. great predilection; 4. partiality; 5. great grief; immense suffering...
Under the sign of passion – a text of the Portuguese poet Regina Guimarães – is our icon. Passion is to reveal great enthusiasm for something, favourable encouragement or opposite to something.
It is the sensibility transmitted by an architect or engineer through work.
Passion is the dedication to a project. Passion is a state of warm soul.
Photo by Jakub Karwowski, finalist of the Emergentes dst Award 2012.
Loyalty. (from the lat. legalitate) n. the quality of being loyal; fidelity; sincerity.
Respect for the principles and rules that guide the honour and probity. Faithfulness to commitments and agreements undertaken, staunch character.
To remain loyal to the business partners because we depend on them and they depend on us.
Being trustworthy for being loyal.
Photo by Ian Lieske, finalist of the Emergentes dst Award 2011.
Solidarity. (from the lat. solidare) n. 1. the quality of being solidary; 2. reciprocal responsibility among the members of a group, namely social, professional, etc.; 3. sense of sharing another's suffering.
Being solidary is being a friend, offering our hand with genuine generosity and bringing joy and human warmth to those who, somehow, are marginalized. Being solidary is being more human. A solidary company is recognized as a fair and non-selfish company. A solidary company is a preferred choice in business. It is a more competitive company. Volunteering is a vehicle to solidarity. It is modern, fair, cultured, friend, it is a noble gesture of moral elevation.
Photo by Clarence Gorton, finalist of the Emergentes dst Award 2012.
Courage. (from the lat. coraticum) n. 1. bravery facing danger; intrepidity; to have audacity; 2. moral force before a suffering or setback; 3. [fig.] to input energy when performing a difficult task; perseverance...
Courage is essential in our life. Courage to face less pleasant situations when complex issues come up, not expecting random resolutions.
It is a value that we must highlight as opposed to the fearful, cowardly and laziness.
The courage to react to criticism not with an attitude of demotivation or sadness, but rather to search for the means and the action to overcome its own reason. This kind of courage, which is also an intellectual courage, is highly recommended.
Photo by Filipa Alves, finalist of the Emergentes dst Award 2011.
Ambition. (from the lat. ambitione) n. 1. vehement desire of wealth, honours or glories; 2. expectation about the future; aspiration; 3. lust; greed…
Vehement desire to achieve a particular goal. Ambition not to resign ourselves. Ambition to take the best potential from ourselves. Ambition to deserve ourselves. Ambition to be athletes in our top-level competitive jobs. Ambition to beat our brands. Ambition to get the best deals with the maximum value, due to the high levels of proficiency and efficiency.
Photo by Scarlett Coten, finalist of the Emergentes dst Award 2011.
Good Taste. (from the lat. gustu) n. 1. ability to appreciate aesthetic value or standards of something; 2. elegance, refinement, aesthetic sense; 5. particular touch given by an artist to his works.
We decided to build the company's economic foundations under a cultured, cosmopolitan and cool image. Because it is a charming state of being. Good taste because we are sustainable and we respect the planet. Good taste because we are sensitive. Good taste just because.
Photo by Karl Erik Brondbo, finalist of the Emergentes dst Award 2011.
Responsibility. (from the lat respondere) n. the trait of being answerable to someone for something or being responsible for one's conduct; a form of trustworthiness.
We must be certain that, before a choice, we chose what is best for both of us and not just the best for each one. Each employee is responsible for his negotiated activity and co-responsible if the co-worker does not fulfil his own task, thus preventing the common goal. A team is a set of individuals - is a whole. In the business game, as in social or family contexts, everyone must comply with their own relative position and we shall not permit that one of ours fails to be in our team.
News
Press Room
Company puts workers to read 15 hours each month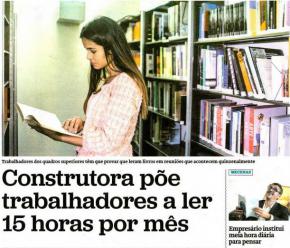 24/06/2018
Company puts workers to read 15 hours each month
When, nine months ago, Maria Carmo reported for work in the Strategic Planning Department of the DST group, based in Braga, she was expecting to start dealing with numbers from the start. But the administrator, José Teixeira, sent her book to her office that he thought she should read and waited for her feedback. Maria was a "bit overwhelmed" with her first task, but soon the culture of books was ingrained in her day to day. Fortunately for her. For this construction group, with 1400 employees, there are goals to achieve: 15 hours of reading each month (half an hour each day). Maria already enjoyed reading, something passed down to her by her mother, Ana Varandas - also an employee at the company - but Rui Humberto, from Communication and Marketing, confesses that reading was not a habit in his daily life, nor was art, which, was seen in every corner of the company's offices: be it a painting, a sculpture or installation. "I read many technical books, but since I got here, I started reading other types, which lead me to have another kind of inspiration. When I walked into these corridors, I thought I was in one of the largest galleries in the area," recalls Humberto.
BIMONTHLY MEETINGS
To instill this literary culture, José Teixeira adopted a strategy: every 15 days, the employees of senior management - about 700 - have to read a book they like or that was suggested to them, which can be requested in the company's library. How to prove that the employees actually read the books? In the bimonthly meetings - which may or may not be attended by the administrator - in which a worker is randomly chosen to talk about the book they read through a pitch (short presentation that usually is used to convince clients). "Everybody has to be prepared," asserts the Chairman. Ana Lobão, from the Finance Department, believes that "the first gain is personal gain." Also, books about, for example, behavioral psychology or economics, "can help deal with customers." José Teixeira is "certain" that culture "is essential to the competitiveness of companies". He suggests: "It's not enough that only I and a couple of engineers read. We are 1400 employees and we need a kind of crowd wisdom. With the ability to learn, we become aces of knowledge" He is convinced that, unlike most companies, this one has become" more competitive "in times of crisis," thanks to culture". He concludes that "When there is calm, anyone does business. When you have difficulties is when you see the importance of knowledge".
Entrepreneur establishes daily half hour to think
José Teixeira promoted the tradition of books in the company, but without affecting the employees' free time. The entrepreneur knows that "there are business ideas that arise from what is being read", so he established that within eight hours of work, employees should take a half an hour to think. During this period, the staff of senior management can then enjoy "reading, going to the intranet, pose questions, opinions, share and comment." He defends that "half an hour a day is not long, but it should be the most productive. It's harder to stop to think than fulfilling routines". In his readings, José Teixeira considers the book "Mau Tempo no Canal" bu Vitorino Nemesio, to be the book of his life. On his nightstand, he now has "The Aesthetic Dimension" by Herbert Marcuse.
Know more
1, 2 million euros in culture per year. This is the amount that the grupoDST invests annually in culture between patronage activities.
Books on birthdays. All company employees receive a book on their birthday, including the less qualified. About 700 people are not part of the literary goals established by José Teixeira.
Zet Gallery. In addition to literature, the construction company is dedicated to supporting new artists and contemporary art through Zet Gallery (formerly Shairart), established in April 2014 in Rua do Raio, Braga.