Engineering & Construction
Environment
Telecommunications
Renewable energies
Ventures
Real estate
Explore our business areas
Photo by Luís Pinto, finalist of the Emergentes dst Award 2011.
Respect. (from the lat. respectu) n. 1. respect; 2. consideration; high regard; 3. deference; compliance; veneration; 4. honour; worship; 5. relation; refererence...
We believe that everyone should be respected for their work, for their attitudes, opinions and options.
Photo by Mila Teshaieva, finalist of the Emergentes dst Award 2011.
Rigor. (from the lat. rigore) n. 1. harshness; strength; 2.fig., severity; punctuality; accuracy.
There is no "more or less levelled", "more or less upright", "more or less clean" or "more or less safe", but rather "levelled", "upright", "clean" and "safe". The rigour is reflected in our procedures, in time and in the rules to follow. In the light of moral and principles, being severe means being rigorous.

Photo by , finalist of the Emergentes dst Award 2012.
Passion. (from the lat. passione) n. 1. intense and usually violent feeling (affection, joy, hate, etc.) which hinders the exercise of impartial logic; 2. derived from a feeling; 3. great predilection; 4. partiality; 5. great grief; immense suffering...
Under the sign of passion – a text of the Portuguese poet Regina Guimarães – is our icon. Passion is to reveal great enthusiasm for something, favourable encouragement or opposite to something.
It is the sensibility transmitted by an architect or engineer through work.
Passion is the dedication to a project. Passion is a state of warm soul.
Photo by Jakub Karwowski, finalist of the Emergentes dst Award 2012.
Loyalty. (from the lat. legalitate) n. the quality of being loyal; fidelity; sincerity.
Respect for the principles and rules that guide the honour and probity. Faithfulness to commitments and agreements undertaken, staunch character.
To remain loyal to the business partners because we depend on them and they depend on us.
Being trustworthy for being loyal.
Photo by Ian Lieske, finalist of the Emergentes dst Award 2011.
Solidarity. (from the lat. solidare) n. 1. the quality of being solidary; 2. reciprocal responsibility among the members of a group, namely social, professional, etc.; 3. sense of sharing another's suffering.
Being solidary is being a friend, offering our hand with genuine generosity and bringing joy and human warmth to those who, somehow, are marginalized. Being solidary is being more human. A solidary company is recognized as a fair and non-selfish company. A solidary company is a preferred choice in business. It is a more competitive company. Volunteering is a vehicle to solidarity. It is modern, fair, cultured, friend, it is a noble gesture of moral elevation.
Photo by Clarence Gorton, finalist of the Emergentes dst Award 2012.
Courage. (from the lat. coraticum) n. 1. bravery facing danger; intrepidity; to have audacity; 2. moral force before a suffering or setback; 3. [fig.] to input energy when performing a difficult task; perseverance...
Courage is essential in our life. Courage to face less pleasant situations when complex issues come up, not expecting random resolutions.
It is a value that we must highlight as opposed to the fearful, cowardly and laziness.
The courage to react to criticism not with an attitude of demotivation or sadness, but rather to search for the means and the action to overcome its own reason. This kind of courage, which is also an intellectual courage, is highly recommended.
Photo by Filipa Alves, finalist of the Emergentes dst Award 2011.
Ambition. (from the lat. ambitione) n. 1. vehement desire of wealth, honours or glories; 2. expectation about the future; aspiration; 3. lust; greed…
Vehement desire to achieve a particular goal. Ambition not to resign ourselves. Ambition to take the best potential from ourselves. Ambition to deserve ourselves. Ambition to be athletes in our top-level competitive jobs. Ambition to beat our brands. Ambition to get the best deals with the maximum value, due to the high levels of proficiency and efficiency.
Photo by Scarlett Coten, finalist of the Emergentes dst Award 2011.
Esthetics. ESTHETICS (from the Greek aisthetiké, "sensitive") n.f. 1. Philosophy branch of philosophy that studies the beauty and nature of artistic phenomena; 2. author's own style, time, etc.; 3. harmony of shapes and colors, beauty; 4. set of techniques and treatments that aim to beautify the body.
We decided to build the company's economic foundations under a cultured, cosmopolitan and cool image. Because it is a charming state of being. Good taste because we are sustainable and we respect the planet. Good taste because we are sensitive. Good taste just because.
Photo by Karl Erik Brondbo, finalist of the Emergentes dst Award 2011.
Responsibility. (from the lat respondere) n. the trait of being answerable to someone for something or being responsible for one's conduct; a form of trustworthiness.
We must be certain that, before a choice, we chose what is best for both of us and not just the best for each one. Each employee is responsible for his negotiated activity and co-responsible if the co-worker does not fulfil his own task, thus preventing the common goal. A team is a set of individuals - is a whole. In the business game, as in social or family contexts, everyone must comply with their own relative position and we shall not permit that one of ours fails to be in our team.
News
Press Room
DOBRA - Braga Documentary Film Festival debuts with programme dedicated to young people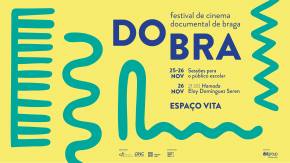 31/10/2019
DOBRA - Braga Documentary Film Festival debuts with programme dedicated to young people
RTP
The Braga DOBRA Documentary Film Festival, which will take place on 25 and 26 November, with programming from Porto/Post/Doc, wants to show young people that "there is cinema beyond the shopping centres", the organization said today.
With eight sessions for the school-aged public and one for adults, DOBRA is taking place for the first time in Braga, in an initiative promoted by a team of the National Plan for Cinema from the Carlos Amarante School Group (PNC-AECA), the sixth largest school group in the country.
"Cinema has to be understood as a necessity and not just as a pedagogical tool. We are trying to show students that there is another cinema and things are being carried out in addition to the films being shown in shopping centres. There is work on the film after each session", Fátima Brandão, the PNC-AECA coordinator, told Lusa, the Portuguese news agency.
The director of Porto/Post/Doc, a festival now holding its sixth edition and which this year is taking place from 23 November to 01 December, pointed out that in a group in which, he said, "a dozen teachers are involved in the National Plan for Cinema", it is "trying to create reflection on art", an emphasis that he would like to see replicated in other parts of the country.
DOBRA will have free viewings and the screenings are taking place at the Espaço Vita, and the event is being sponsored by the DST business group.
Fátima Brandão pointed out that the festival will be for "all ages" with "films for all age groups", involving "five-year olds to night school students" from schools spread over 13 parishes of the district of Braga.
"And we want to open up to other school groups", added the PNC-AECA coordinator.
On the 25th, from 09:30, middle school students will have access to a programme which includes "Dva Tramvaya" by Svetlana Andrianova, "Le Renard Minuscule" by Aline Quertain, "Le Lion Et Le Singe" by Benoit Feroumont, "Snowflake" by Natalie Chernysheva, "Paniek!" by Joost Lieuwma and Dann Velsink, "The Bird & The Whale" by Carol Freeman, "Hors Piste" by Léo Brunel, Loris Cavalier, Camille Jalabert and Oscar Malet, as well as "Vivat Musketeers!" by Anton Dyakov.
At 11:30 the pre-school and primary school audience is invited to watch the films "Coucouleurs" by Oana Lacroix, "Sam's Dream" by Nolween Roberts, "Le Tigre Sans Rayures" by Raul Robin Morales Reyes, "Sloth" by Julia Ocker, and "La Petite Pousse" by Chaitane Conversat.
On the 26th, in the morning, DOBRA will be focused on 7th-9th grade students with "Viagem a Cabo Verde (Journey to Cape Verde)" by José Miguel Ribeiro, "Kali, O Pequeno Vampiro (Kali, The Little Vampire)" by Regina Pessoa, "Água Mole (Drop by Drop)" by Alexandra Ramires (Xá) and Laura Gonçalves, "Cidade Pequena (Small Town)" by Diogo Costa Amarante, and "Russa" by João Salaviza and Ricardo Alves Jr.
"Transnistra" by Anna Eborn, an entry in the 2019 Porto/Post/Doc competition, is the film provided for Secondary School students, with a double screening on Monday and Tuesday afternoon, at 14:00 and 16:00.
Finally, note that there is a free session open to the general public who can watch "Hamada" by Eloy Domínguez Serén, filmed among the Sahrawi people in the desert, winner of the 2018 Porto/Post/Doc International Competition, a film that Dario Oliveira described to the Lusa press agency as "exemplary in showing the ability to discover an author, to discover cinema, to discover a theme and to discover a country that lives trapped within a serious problem of international recognition".