Engineering & Construction
Environment
Telecommunications
Renewable energies
Ventures
Real estate
Explore our business areas
Photo by Luís Pinto, finalist of the Emergentes dst Award 2011.
Respect. (from the lat. respectu) n. 1. respect; 2. consideration; high regard; 3. deference; compliance; veneration; 4. honour; worship; 5. relation; refererence...
We believe that everyone should be respected for their work, for their attitudes, opinions and options.
Photo by Mila Teshaieva, finalist of the Emergentes dst Award 2011.
Rigor. (from the lat. rigore) n. 1. harshness; strength; 2.fig., severity; punctuality; accuracy.
There is no "more or less levelled", "more or less upright", "more or less clean" or "more or less safe", but rather "levelled", "upright", "clean" and "safe". The rigour is reflected in our procedures, in time and in the rules to follow. In the light of moral and principles, being severe means being rigorous.

Photo by , finalist of the Emergentes dst Award 2012.
Passion. (from the lat. passione) n. 1. intense and usually violent feeling (affection, joy, hate, etc.) which hinders the exercise of impartial logic; 2. derived from a feeling; 3. great predilection; 4. partiality; 5. great grief; immense suffering...
Under the sign of passion – a text of the Portuguese poet Regina Guimarães – is our icon. Passion is to reveal great enthusiasm for something, favourable encouragement or opposite to something.
It is the sensibility transmitted by an architect or engineer through work.
Passion is the dedication to a project. Passion is a state of warm soul.
Photo by Jakub Karwowski, finalist of the Emergentes dst Award 2012.
Loyalty. (from the lat. legalitate) n. the quality of being loyal; fidelity; sincerity.
Respect for the principles and rules that guide the honour and probity. Faithfulness to commitments and agreements undertaken, staunch character.
To remain loyal to the business partners because we depend on them and they depend on us.
Being trustworthy for being loyal.
Photo by Ian Lieske, finalist of the Emergentes dst Award 2011.
Solidarity. (from the lat. solidare) n. 1. the quality of being solidary; 2. reciprocal responsibility among the members of a group, namely social, professional, etc.; 3. sense of sharing another's suffering.
Being solidary is being a friend, offering our hand with genuine generosity and bringing joy and human warmth to those who, somehow, are marginalized. Being solidary is being more human. A solidary company is recognized as a fair and non-selfish company. A solidary company is a preferred choice in business. It is a more competitive company. Volunteering is a vehicle to solidarity. It is modern, fair, cultured, friend, it is a noble gesture of moral elevation.
Photo by Clarence Gorton, finalist of the Emergentes dst Award 2012.
Courage. (from the lat. coraticum) n. 1. bravery facing danger; intrepidity; to have audacity; 2. moral force before a suffering or setback; 3. [fig.] to input energy when performing a difficult task; perseverance...
Courage is essential in our life. Courage to face less pleasant situations when complex issues come up, not expecting random resolutions.
It is a value that we must highlight as opposed to the fearful, cowardly and laziness.
The courage to react to criticism not with an attitude of demotivation or sadness, but rather to search for the means and the action to overcome its own reason. This kind of courage, which is also an intellectual courage, is highly recommended.
Photo by Filipa Alves, finalist of the Emergentes dst Award 2011.
Ambition. (from the lat. ambitione) n. 1. vehement desire of wealth, honours or glories; 2. expectation about the future; aspiration; 3. lust; greed…
Vehement desire to achieve a particular goal. Ambition not to resign ourselves. Ambition to take the best potential from ourselves. Ambition to deserve ourselves. Ambition to be athletes in our top-level competitive jobs. Ambition to beat our brands. Ambition to get the best deals with the maximum value, due to the high levels of proficiency and efficiency.
Photo by Scarlett Coten, finalist of the Emergentes dst Award 2011.
Esthetics. ESTHETICS (from the Greek aisthetiké, "sensitive") n.f. 1. Philosophy branch of philosophy that studies the beauty and nature of artistic phenomena; 2. author's own style, time, etc.; 3. harmony of shapes and colors, beauty; 4. set of techniques and treatments that aim to beautify the body.
We decided to build the company's economic foundations under a cultured, cosmopolitan and cool image. Because it is a charming state of being. Good taste because we are sustainable and we respect the planet. Good taste because we are sensitive. Good taste just because.
Photo by Karl Erik Brondbo, finalist of the Emergentes dst Award 2011.
Responsibility. (from the lat respondere) n. the trait of being answerable to someone for something or being responsible for one's conduct; a form of trustworthiness.
We must be certain that, before a choice, we chose what is best for both of us and not just the best for each one. Each employee is responsible for his negotiated activity and co-responsible if the co-worker does not fulfil his own task, thus preventing the common goal. A team is a set of individuals - is a whole. In the business game, as in social or family contexts, everyone must comply with their own relative position and we shall not permit that one of ours fails to be in our team.
News
Press Room
DST group company awarded 5 million contract for façade of the Porte de la Chapelle Arena in Paris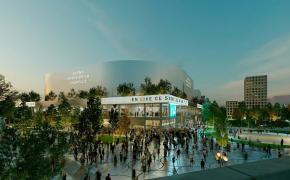 06/07/2022
DST group company awarded 5 million contract for façade of the Porte de la Chapelle Arena in Paris
Negócios Newspaper
With a five-month execution period, the work will be ready in the summer of 2023.
Bysteelfs, part of the DST group, announced on Wednesday it had been awarded a five million euro contract to build the façade system for the Porte de la Chapelle Arena in Paris, which will host events for the 2024 Olympic and Paralympic Games.
In a press release, the company states that "the contract signed with Bouygues is part of a EUR 136 million operation promoted by the Parisian city council", and it will be responsible for the design and execution of a façade with around 10,000 square metres in aluminium, glass and composite material, planned in the architectural project designed by SCAU and NP2F.
With a five-month execution period, the work will be ready in the summer of 2023.
According to the Portuguese company, the Porte de la Chapelle Arena will serve as the venue for the badminton and gymnastics events of the 2024 Olympic Games and the badminton and weightlifting events of the 2024 Paralympic Games, events that will take place in Paris, France.
"In total, the 26,000 square metre infrastructure will feature a hall with a capacity for 8,000 people, two gymnasiums for the residents of the nearby communities and a leisure and commercial area with 2,600 square metres," he specifies.
The exterior includes the creation of "3,000 square metres of green areas, 6,000 square metres of roof gardens and an area with a panoramic view over the city", he adds.
According to bysteelfs, after the 2024 Olympic Games, the Arena Porte de la Chapelle will be "the home of Paris Basketball, the largest basketball club in the French capital, and will also function as the city's northern cultural 'hub', serving as the stage for major shows".
The dstgroup company highlights the environmental impact reduction as "a challenge of the utmost importance both in the design phase and during the management of this project".
"More than 95% of the 944 tonnes of waste produced in construction will be reclaimed and 45% of the concrete used is low carbon, thus avoiding the emission of 1,300 tonnes of CO2 [carbon dioxide]," he says.
"On the other hand - he continues - part of the non-bearing walls will be built with earth blocks and the 8,000 spectator chairs will be made from 70 tonnes of plastic waste collected from nearby neighbourhoods."
Citado no comunicado, o presidente executivo (CEO) da bysteel (também do grupo DST), Rodrigo Araújo, afirma: "Participar numa obra com este nível de preocupação ambiental é muito importante para nós, porque é uma oportunidade para confirmarmos a mudança de paradigma no setor da construção. Cada vez se investe mais e melhor em inovação, na procura de soluções mais eficientes e sustentáveis. É neste futuro mais ecológico que a bysteel e a bysteelfs se colocam".
Quoted in the press release, bysteel's CEO (also part of the DST Group) Rodrigo Araújo, said: "Participating in a project with this level of environmental concern is very important for us, because it is an opportunity to confirm the paradigm shift in the construction sector. More and more is being invested in innovation, in the search for more efficient and sustainable solutions. It is in this more ecological future that bysteel and bysteelfs place themselves".
As he recalls, France was the market where, in 2012, bysteel started its internationalisation process in Europe. In 2012, they signed their first contract there, worth EUR 250,000, which "opened the doors to what is now the country with the highest turnover for bysteel and bysteelfs".
This year, bysteel and bysteelfs' business portfolio in this country exceeds EUR 50 million, including works such as the renovation of the PB10 (now Altiplano) office building in La Defense financial centre, or the LDLC Arena in Lyon, which will be "the largest concert hall outside Paris", with a capacity for 16,000 spectators.
bysteelfs is a dstgroup company specialising in the design, engineering and execution of architectural façades for buildings. Located in the group's current premises in Braga, the company recently opened a manufacturing unit with an area covering approximately 8,000 square metres.
This new dstgroup company complements bysteel's offer in the areas of steel structures, allowing the dstgroup to "provide 'turnkey' solutions to the various international market demands".