Engineering & Construction
Environment
Telecommunications
Renewable energies
Ventures
Real estate
Explore our business areas
Photo by Luís Pinto, finalist of the Emergentes dst Award 2011.
Respect. (from the lat. respectu) n. 1. respect; 2. consideration; high regard; 3. deference; compliance; veneration; 4. honour; worship; 5. relation; refererence...
We believe that everyone should be respected for their work, for their attitudes, opinions and options.
Photo by Mila Teshaieva, finalist of the Emergentes dst Award 2011.
Rigor. (from the lat. rigore) n. 1. harshness; strength; 2.fig., severity; punctuality; accuracy.
There is no "more or less levelled", "more or less upright", "more or less clean" or "more or less safe", but rather "levelled", "upright", "clean" and "safe". The rigour is reflected in our procedures, in time and in the rules to follow. In the light of moral and principles, being severe means being rigorous.

Photo by , finalist of the Emergentes dst Award 2012.
Passion. (from the lat. passione) n. 1. intense and usually violent feeling (affection, joy, hate, etc.) which hinders the exercise of impartial logic; 2. derived from a feeling; 3. great predilection; 4. partiality; 5. great grief; immense suffering...
Under the sign of passion – a text of the Portuguese poet Regina Guimarães – is our icon. Passion is to reveal great enthusiasm for something, favourable encouragement or opposite to something.
It is the sensibility transmitted by an architect or engineer through work.
Passion is the dedication to a project. Passion is a state of warm soul.
Photo by Jakub Karwowski, finalist of the Emergentes dst Award 2012.
Loyalty. (from the lat. legalitate) n. the quality of being loyal; fidelity; sincerity.
Respect for the principles and rules that guide the honour and probity. Faithfulness to commitments and agreements undertaken, staunch character.
To remain loyal to the business partners because we depend on them and they depend on us.
Being trustworthy for being loyal.
Photo by Ian Lieske, finalist of the Emergentes dst Award 2011.
Solidarity. (from the lat. solidare) n. 1. the quality of being solidary; 2. reciprocal responsibility among the members of a group, namely social, professional, etc.; 3. sense of sharing another's suffering.
Being solidary is being a friend, offering our hand with genuine generosity and bringing joy and human warmth to those who, somehow, are marginalized. Being solidary is being more human. A solidary company is recognized as a fair and non-selfish company. A solidary company is a preferred choice in business. It is a more competitive company. Volunteering is a vehicle to solidarity. It is modern, fair, cultured, friend, it is a noble gesture of moral elevation.
Photo by Clarence Gorton, finalist of the Emergentes dst Award 2012.
Courage. (from the lat. coraticum) n. 1. bravery facing danger; intrepidity; to have audacity; 2. moral force before a suffering or setback; 3. [fig.] to input energy when performing a difficult task; perseverance...
Courage is essential in our life. Courage to face less pleasant situations when complex issues come up, not expecting random resolutions.
It is a value that we must highlight as opposed to the fearful, cowardly and laziness.
The courage to react to criticism not with an attitude of demotivation or sadness, but rather to search for the means and the action to overcome its own reason. This kind of courage, which is also an intellectual courage, is highly recommended.
Photo by Filipa Alves, finalist of the Emergentes dst Award 2011.
Ambition. (from the lat. ambitione) n. 1. vehement desire of wealth, honours or glories; 2. expectation about the future; aspiration; 3. lust; greed…
Vehement desire to achieve a particular goal. Ambition not to resign ourselves. Ambition to take the best potential from ourselves. Ambition to deserve ourselves. Ambition to be athletes in our top-level competitive jobs. Ambition to beat our brands. Ambition to get the best deals with the maximum value, due to the high levels of proficiency and efficiency.
Photo by Scarlett Coten, finalist of the Emergentes dst Award 2011.
Esthetics. ESTHETICS (from the Greek aisthetiké, "sensitive") n.f. 1. Philosophy branch of philosophy that studies the beauty and nature of artistic phenomena; 2. author's own style, time, etc.; 3. harmony of shapes and colors, beauty; 4. set of techniques and treatments that aim to beautify the body.
We decided to build the company's economic foundations under a cultured, cosmopolitan and cool image. Because it is a charming state of being. Good taste because we are sustainable and we respect the planet. Good taste because we are sensitive. Good taste just because.
Photo by Karl Erik Brondbo, finalist of the Emergentes dst Award 2011.
Responsibility. (from the lat respondere) n. the trait of being answerable to someone for something or being responsible for one's conduct; a form of trustworthiness.
We must be certain that, before a choice, we chose what is best for both of us and not just the best for each one. Each employee is responsible for his negotiated activity and co-responsible if the co-worker does not fulfil his own task, thus preventing the common goal. A team is a set of individuals - is a whole. In the business game, as in social or family contexts, everyone must comply with their own relative position and we shall not permit that one of ours fails to be in our team.
News
Press Room
dstgroup. How philosophy builds ingenuity, art and a turnover of 450 million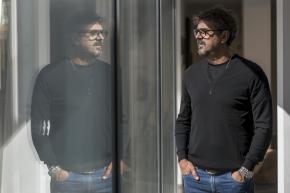 20/12/2020
dstgroup. How philosophy builds ingenuity, art and a turnover of 450 million
Pessoas by Eco Sapo
At dst, conversations about materials and construction techniques are interspersed with quotes from Aristotle, Nietzsche and Fernando Pessoa. Philosophy and culture are as valuable as concrete. Or even more.
It's a normal day and Hortelã walks slowly on the road that separates the two football fields from the sports park and the small auditorium recently opened in the dstgroup complex in Braga. It is early, it is sunny, and the donkey is tasting the grass that grows there, without noticing the real plane suspended by steel cables that were hung there a few months ago. "It's Zenith, the flight of dreams. It is the centre of the centre", points out Raquel Sousa, manager of institutional relations, events and communication for the company that is a national leader in the area of engineering and construction.
The plane, a work signed by Miguel Palma, was the result of a conversation between the artist and engineer José Teixeira, chairman of the company's board of directors, for over 12 years. "It was his dream for many years and it finally came true," says Raquel.
The dst complex looks like an open-air museum. The manufacturing units of the group's companies mix, in a space with about 20 thousand hectares of productive area, with sculptures, murals, containers made of artworks and other artistic installations and paintings. Hundreds of frames.
On Avenida das Oliveiras there are warehouses on one side of the road and on the other. In one of the gates that flank it, one enters the Teresa Gonçalves Gomes Garden, created in 2018 in memory and homage to the family matriarch, where a small olive grove was transplanted a few days ago.
"We don't throw anything away, we reuse it. We decided to transplant these olive trees that came from a construction project ", says Raquel, pointing to the trees that can be seen on the sloping terrain that offers a clear view to the BySteelFS factory, a company dedicated to building facades and one of the only ones that have a majority in the workforce. In the garden space, which includes a car park surrounded by an extensive lawn area, there are several artworks and spots. Meditation, blessed by D. Jorge, the local bishop, is a space open to everyone and a destination for anyone who wants to think, meditate or be silent.
The two Siamese structures made of concrete and glass, which could well fit together to be a closed house, have only two decorative elements: on the left, a yellow and red bench with space for a person sitting in Covid's time. On the right side, a cross and a plaque where a phrase for reflection is inscribed daily. On this autumn morning, Father António Vieira "gives the sermon" to the visitors. "Know Christians that you will be asked for a close account of what you have done. But much narrower than you stopped doing," reads.
The 70 companies that are part of the group account for business in 25 markets and have more than 2,000 workers. Most of them are in the Braga complex. Founded in the 1940s as an engineering and construction company, only 30 years later dstgroup launched the second business area, metalworking.
"The group came from the stone. And, over time, we have been migrating to various sectors, and this has strengthened us a lot. When, a few years ago, other players went to new geographies, we preferred to strengthen ourselves within the areas where we were already strong, this was part of our strategy. The business philosophy is based on three pillars: one that translates into the economic or financial part, the other, the environmental concern and, finally, social responsibility. This tripod is essential and the foundation in any organization ", points out José Ricardo Machado, the company's human resources director.
In 2001, dst entered the renewable energy market; four years later, it invested in water and the environment and, in 2008, in the telecommunications sector. At that time, explains Raquel Sousa, the structure stopped considering these business areas as "departments" and moved them to different "companies", integrated into a group. Only after that, in 2010, dstgroup began its internationalization strategy, the way it found to differentiate itself from its competitors. Four years later, the company was finally starting to invest in protocols with professional schools, a way to listen to the market and train talent. An example of this is the agreement that dst has with the Polytechnic Institute of Cávado and Ave (IPCA): a partnership ensures a welding training centre whose theoretical part is done at school and the practice is done at the factory. "We made this protocol to stay with them because there are no locksmiths, there is no manpower", points out Raquel Sousa.
A culture of construction that builds culture
"Each page has a page of history", it reads in one of the containers that serves as a kind of outdoor "living room", installed first at the Braga Book Fair and, finally, at the dst complex.
"It takes a lot of pedagogy to bring people into the culture that we want to exist in the organization.  I like that quote by Raul Seixas, a Brazilian poet who says, 'I prefer to be this walking metamorphosis than to have that old opinion formed about everything'. And I think the dstgroup thinks like that. Really, we are absorbing a lot, we provoke a lot. When provoked, people are uneasy. And when they worry, they go after something", points out the person in charge of human resources. José Ricardo Machado leads a team of 15 people. They are the ones who, together with the communications and events office, coordinate all initiatives related to dst people.
International Women's Day, Father's Day, Mobility Week. The list could continue because all the events are considered "good reasons" for motivational actions in the company, says Raquel. "Each thematic day is, for me, an opportunity to work on something. We do many actions, and they are always for the benefit of workers. Physiotherapy, ergonomics, a series of activities that we understand are part of the core of dst and our DNA ", points out Raquel.
In dst for 20 years, Raquel knows the corners of the house like no one else. Born in Braga, dstgroup was the second company she worked for, and her entry, as José Teixeira's personal and professional secretary, practically coincided with the organization's agreement with a gymnasium, which ensures a hundred places for workers of regular physical activity. In addition to the gym, in the complex there are a number of features that can be used by all workers: in the restaurant, 200 meals are served per day and the takeaway service is prepared; the two football fields are joined by a third tennis court. Next to it, an open field with vegetable and barbecue spaces that, before Covid, was widely used by workers and their families at weekends. Slightly further, the health centre, which has four doctors during the week - hygienist-dentist, general practitioner, medicine at work and cosmetics, and a nurse available eight hours a week. "The complex was being built to the size of engineer José Teixeira. Always ", she stresses.
Upon arrival, the reporting team heads directly to the health centre. No one from outside enters the company without a Covid serological test. At the entrance, preventive measures. Thermometer, hand sanitiser, use of a mandatory mask in all areas of the complex. On the left side, a reinterpretation of the Last Supper, with a black Jesus Christ and the representation of some of the family members who currently lead the company's destinies. On the right side, two huge painted portraits of the founders, Teresa Gonçalves Gomes and Domingos da Silva Teixeira. A gallery or, as Raquel Sousa says, "artworks in everything that is a wall", which only lose our attention when Óscar, the cat that José Teixeira offered to the collaborators in the scope of the International Women's Day, appears, by surprise, on the way. "He walks in our main office, let's see if we can see him", points out Raquel.
"When you combine art and science, we are at a level of interpretation that involves understanding that people today buy a good, but it must have aesthetic value. The toaster, for example, works 15 minutes in your kitchen, if you use it every day; the rest of the time, it's aesthetic. Therefore, art here, in the case of this apparent and fallacious contradiction, art comes to affirm the importance and relevance in the competitiveness of what we do. Because what we do must have art ", explains José Teixeira.
Every day, since the beginning of the pandemic, there are kaizen meetings on the topic, chaired by the chairman of the company's board of directors. In them, safety is a priority in the discussion. "The psyche that is built in each company is made up of people, and it is very important to have the footprint of the chairman of the board here. Basically, people end up moulding themselves to the image of our business philosophy. We work a lot on culture because people are at the beginning. We created a structure, an environment, a habitat, so that people feel this care for them. It has to be cultivated, it cannot be forgotten over time. The company's responsibility is to have an agenda for these topics ", underlines José Machado.
The company's business areas are as varied as the training they provide to their employees. In addition to construction and engineering (dst - Domingos Silva Teixeira SA), dstgroup has other complementary business areas to which it is dedicated. Geotechnics, special installations and security systems, aggregates, waste management, bituminous, smart cities - materialized in the dst living labs in Loures, Braga and Estarreja - and many others.
BySteel, the group's second largest business unit and dedicated to the area of metalworking, was considered in 2014 one of the four largest Portuguese exporters and its main markets are France, the United Kingdom and several African countries, to which it exports 95% of produces.
"It even seems like esotericism, talking and promoting culture, offering tickets to the theatre, a book on the anniversary, encouraging people to read, sharing texts every week to make them reflect. We have never looked at this as a cost but as an investment that adds value to workers and this story that we want to tell ", stresses the human resources director. José Teixeira reinforces: "At the end of the day, what worries me a lot is that we manage to have a story here, whose context we control but, at the end of the story, the characters all end up being good people. We dominate the story. At the end of the day, even the villain deserves it, he converted ".
The most recent novelty in this field was a philosophy course that dst decided to create in partnership with the Faculty of Philosophy and Social Sciences of the Catholic University of Braga, which allows the 350 oldest workers in the company to discuss Aristotle, Plato and Nietzsche. Why? Simple.
"It is evident that the construction industry has a challenge here, due to its past of little science and technology, because it is not in 2.0. The processes did not arrive here because science is lacking. In a sophisticated world, when they come to visit us and enter this psyche, anything that is in the air, but they don't know what it is, this activates such neurotransmitters that support the decision to hire us, such empathy. When it is a cultured, cosmopolitan company, we are on the same beach, we get along with any citizen in the world ", stresses José Teixeira.
"Philosophy has not earned, on the part of the various organizations, companies and institutions, the welcome that should be given to it. (…) However, it is the discipline best prepared for this pedagogical mission. A company that allows itself to be impregnated by the critical sense, by questioning, by the concerns of the great philosophers and that, from them, poses the right questions for each problem, for each challenge, will certainly produce with another quality and will be a company that will contribute to transform our planet into a more human, more liveable, more peaceful, happier and more liveable world for everyone ", underlines José Manuel Martins Lopes, director of FFCS.
José Machado stresses that the proximity to the academy, professional schools and the IEFP is "extremely important". "By having this pedagogy in people's training time, we are also creating a benchmark here, a reminder about best practices. Being closer to the academy is our strategy. No company will be able to differentiate itself in the future if it is not supported because it is a fundamental knowledge centre. We have to go together, we cannot underestimate the potential of schools ".
At the president's table
"How old are you?" I ask. I can't remember. I gave up my birthday a few years ago", jokes José Teixeira while smiling, raising his tone of voice, so that I can hear him well, even though we are, at this moment, separated by the long table that serves as scenarios for the meetings of the board of directors.
Behind me, a huge window, overlooking an inner courtyard of the headquarters building, designed in "O", is an observatory of movement and a vanishing point of memory. On one side of the table, José Teixeira, year 2020, who shares the vision with the other shareholder brothers - Joaquim, Evelino and Hernani. At the other extreme, Domingos and Teresa, who, whenever they are thought, revive memories of the old quarry of Monte Crasto, from where stone was removed for the construction of the 1st of May, Braga's first stadium, and where later to build the current Braga Municipal Stadium, which is no wonder it is called "the Pedreira" (the quarry). "As we are from the stone, we say that 'in the beginning it was not the verb, in the beginning it was the stone", jokes the engineer.
José Teixeira started "from stone" - in the quarry - at the age of six. "With the cuttings from the sidewalks, which were made by the masons - what the guys called cracks - they broke and made gravel. And that was sold by my mother to tin buckets. She also had a canteen in that quarry, made with zinc sheets, and I remember, at the age of six, seeing the wine barrels. The inspectors came and that wine was not legal, they fined it. People would run away. This idea of saying: we cannot erase the past, however hard it may be. We cannot sweeten the past, and this reality, as Caeiro's verse says, that 'reality does not need us'. This is the reality and we want to show it to show that things have not fallen from the sky, nor have they fallen from the sky. It takes resilience and effort but also, we must look back, understand the world we live in and compare it with that of that time: this record is important for our children, for our workers, to give us the value of work here", he says, in conversation with people.
This "work value" is, more than a vision, a mission within the company. And it is done, both in construction, literally speaking, and in the figurative sense.
"The frontier that has to be established so that poetry, at work, does not end, is a job that has to be done with a view to its appreciation. I really care to discuss this because, at the end of the day, we spend a large part of our life at work. It is one of the absolutely inseparable things in existence and, therefore, I want to register this memorial ". That memorial? Good question, dear reader. The memorial is the "next engineer's dream", points out Raquel. Before arriving at the sports park, in the next few days, a "small quarry" will be the object of observation by the artist Pedro Croft. There, under the eyes of the donkey Hortelã, his keeper António and all those who pass through there, an installation will be born to remember the origin of everything. "Nietzsche used to say that you need to always have red-hot iron for your memory to be alive. It's like at Covid: if you drop, you lose. There has to be a hot iron for the memory to be alive. And this is also a process: on campus, we are walking and walking".
Required reading and bedside books
"We all live in this world on board a ship, out of a port we don't know, to a port we don't know. We must be kind to each other in terms of travel ". The reflection of Bernardo Soares, semi-heteronymous of Fernando Pessoa, gives "colour" to another installation in the complex.
"They are archival containers that we had to have painted and, recently, we put the quote and consider this an installation", explains Raquel.
José Teixeira details: "I usually say that I have two Bibles at home - one that was given to me by Father António, from my parish, when I got married. The other is the 'Book of Disquiet '. Because it is a reference book, it is not 'to read'. The kindness to travel, towards each other, has to be taught. And if you don't talk about it, if you don't read, discuss, debate, we are gaining more and more resistance with each other. That is why the Humanities, in technical courses, are absolutely essential ". And concludes. It is that the Humanities, for the engineer, more than culture bring revenue.
"This is a mix of construction and being. I do this today, out of economic interest. And I want my workers to be as cultured and cosmopolitan as possible, so that there is consistency in this entrepreneurial ethos, in this entrepreneurial personality. Being me alone would be a fraud. It is evident that it gives me a lot of peace and makes me sleep well, seeing that this culture - of doubt, restlessness, beauty, reading - is spreading and occupying more and more space and territory. It is an internal enjoyment that, under the pretext of economic interest - and I put it to some resisters, who do not believe that this has an advantage but results economically - they read.
With an estimated turnover of 450 million euros, José Teixeira believes that the company deserved to "earn 10 billion" to reinforce the team and, consequently, the investment made in social responsibility, which is around 350 thousand euros/year.
"A car is not just for driving. It is to tinker with your neurotransmitters which are, at the end of the day, endorphins, which are the morphine of our body. And this is a great competition with pharmacology, psychiatrists and psychologists: if they taught us how to use this drug that we have, we would be our cure ", explains the engineer. Therefore, business is empathy.
"What happens when you have beautiful music, a beautiful poem, a beautiful painting, a beautiful context, in a beautiful design? You are using your body's internal drug, because it gives you an image of calm, happiness, peace. And that's important. In our works, we want that, wherever we put our hands, we put art and commitment. When you are doing a certain action in the construction and understand that there is more or less groomed, more or less levelled, more or less well done, you take a quantum leap in the search for beauty and realize that beauty creates empathy. And empathies make us return what we manufacture with this care ". And a way to, quoting Father António Vieira in "Sexagésima", ask: "how do we fish fishermen?"
"Are you going to sow on thorns, on hardened and trodden paths? What you have to do is 'create an environment so that these souls are available for messages, for evangelization', and there you need to point out the economic interest ", points out José Teixeira. And he gives the Philosophy course, or whatever, as an example. "We have this habit of taking neuroscience classes in all the training courses we have, even of workers. To explain that temperament, that bitterness, that anger and rage - for whose signs the amygdala is responsible - can be worked on. And that has a value, and an incredible economic value. It is the basis of management. And if you have to use this strategy, and if the consequence of that strategy is that people are educated, patience, it was cool. That is the cause of things: a cultured company is much more competitive ".