Engineering & Construction
Environment
Telecommunications
Renewable energies
Ventures
Real estate
Explore our business areas
Photo by Luís Pinto, finalist of the Emergentes dst Award 2011.
Respect. (from the lat. respectu) n. 1. respect; 2. consideration; high regard; 3. deference; compliance; veneration; 4. honour; worship; 5. relation; refererence...
We believe that everyone should be respected for their work, for their attitudes, opinions and options.
Photo by Mila Teshaieva, finalist of the Emergentes dst Award 2011.
Rigor. (from the lat. rigore) n. 1. harshness; strength; 2.fig., severity; punctuality; accuracy.
There is no "more or less levelled", "more or less upright", "more or less clean" or "more or less safe", but rather "levelled", "upright", "clean" and "safe". The rigour is reflected in our procedures, in time and in the rules to follow. In the light of moral and principles, being severe means being rigorous.

Photo by , finalist of the Emergentes dst Award 2012.
Passion. (from the lat. passione) n. 1. intense and usually violent feeling (affection, joy, hate, etc.) which hinders the exercise of impartial logic; 2. derived from a feeling; 3. great predilection; 4. partiality; 5. great grief; immense suffering...
Under the sign of passion – a text of the Portuguese poet Regina Guimarães – is our icon. Passion is to reveal great enthusiasm for something, favourable encouragement or opposite to something.
It is the sensibility transmitted by an architect or engineer through work.
Passion is the dedication to a project. Passion is a state of warm soul.
Photo by Jakub Karwowski, finalist of the Emergentes dst Award 2012.
Loyalty. (from the lat. legalitate) n. the quality of being loyal; fidelity; sincerity.
Respect for the principles and rules that guide the honour and probity. Faithfulness to commitments and agreements undertaken, staunch character.
To remain loyal to the business partners because we depend on them and they depend on us.
Being trustworthy for being loyal.
Photo by Ian Lieske, finalist of the Emergentes dst Award 2011.
Solidarity. (from the lat. solidare) n. 1. the quality of being solidary; 2. reciprocal responsibility among the members of a group, namely social, professional, etc.; 3. sense of sharing another's suffering.
Being solidary is being a friend, offering our hand with genuine generosity and bringing joy and human warmth to those who, somehow, are marginalized. Being solidary is being more human. A solidary company is recognized as a fair and non-selfish company. A solidary company is a preferred choice in business. It is a more competitive company. Volunteering is a vehicle to solidarity. It is modern, fair, cultured, friend, it is a noble gesture of moral elevation.
Photo by Clarence Gorton, finalist of the Emergentes dst Award 2012.
Courage. (from the lat. coraticum) n. 1. bravery facing danger; intrepidity; to have audacity; 2. moral force before a suffering or setback; 3. [fig.] to input energy when performing a difficult task; perseverance...
Courage is essential in our life. Courage to face less pleasant situations when complex issues come up, not expecting random resolutions.
It is a value that we must highlight as opposed to the fearful, cowardly and laziness.
The courage to react to criticism not with an attitude of demotivation or sadness, but rather to search for the means and the action to overcome its own reason. This kind of courage, which is also an intellectual courage, is highly recommended.
Photo by Filipa Alves, finalist of the Emergentes dst Award 2011.
Ambition. (from the lat. ambitione) n. 1. vehement desire of wealth, honours or glories; 2. expectation about the future; aspiration; 3. lust; greed…
Vehement desire to achieve a particular goal. Ambition not to resign ourselves. Ambition to take the best potential from ourselves. Ambition to deserve ourselves. Ambition to be athletes in our top-level competitive jobs. Ambition to beat our brands. Ambition to get the best deals with the maximum value, due to the high levels of proficiency and efficiency.
Photo by Scarlett Coten, finalist of the Emergentes dst Award 2011.
Esthetics. ESTHETICS (from the Greek aisthetiké, "sensitive") n.f. 1. Philosophy branch of philosophy that studies the beauty and nature of artistic phenomena; 2. author's own style, time, etc.; 3. harmony of shapes and colors, beauty; 4. set of techniques and treatments that aim to beautify the body.
We decided to build the company's economic foundations under a cultured, cosmopolitan and cool image. Because it is a charming state of being. Good taste because we are sustainable and we respect the planet. Good taste because we are sensitive. Good taste just because.
Photo by Karl Erik Brondbo, finalist of the Emergentes dst Award 2011.
Responsibility. (from the lat respondere) n. the trait of being answerable to someone for something or being responsible for one's conduct; a form of trustworthiness.
We must be certain that, before a choice, we chose what is best for both of us and not just the best for each one. Each employee is responsible for his negotiated activity and co-responsible if the co-worker does not fulfil his own task, thus preventing the common goal. A team is a set of individuals - is a whole. In the business game, as in social or family contexts, everyone must comply with their own relative position and we shall not permit that one of ours fails to be in our team.
News
Press Room
Hub Criativo do Beato creates living laboratory for the environmental sustainability of Lisbon companies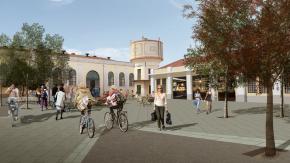 19/05/2021
Hub Criativo do Beato creates living laboratory for the environmental sustainability of Lisbon companies
Project located in the 18 buildings of the former Military Maintenance factory complex in Lisbon, it will be a large-scale demonstration space
It is called the Hub Criativo do Beato Living Lab, and is an initiative launched this Thursday afternoon in Lisbon, which aims to develop new technologies and services to promote sustainability and urban transformation of Lisbon's Startup major project, located in the industrial premises of the former Military Maintenance, in Lisbon's eastern zone.
The aim is to contribute with good practices to mitigate the impact of climate change and to make the Hub Criativo do Beato (HCB) a large-scale intelligent demonstration space, where it is expected that the implemented actions, solutions and services will demonstrate the potential for replication in practice and a real urban environment. The planned operations are intended to benefit the HCB entities and community, the local scientific and entrepreneurial communities, as well as informing local public policy. Therefore, nine actions will be carried out at HCB:
- Setting up a Smart Energy Community, which will bring together producer-consumers, consumers, and electricity storage facilities, demonstrating an advanced concept of a solar-based renewable energy community.
- Installation of an intelligent public lighting system from the outdoor LED lighting system already installed in the HCB, to which various sensors will be attached that will allow advanced management of the lighting system and a reduction in energy consumption.
- Creation of spaces for urban agriculture on the 2000 m2 roof of Factory Lisbon, the largest building of the HCB, where a vegetable garden will be installed for research, demonstration of production viability and community involvement.  One of the anchor companies of Factory Lisbon is Mercedes-Benz.io, the biggest digital centre of Mercedes worldwide, where more than 300 people will work.
- Reduction of emissions in public transport with the Beato BioBus, an initiative that uses used cooking oil collected at the HCB and in the local community to produce biodiesel, which will then be consumed by buses that will serve the HCB.
- Development of a Circular Food System, which promotes the circular economy in the HCB food chain, with the development of a materials flow tool associated with the restaurant network, to evaluate short-chain strategies with different territorial scopes and cycle closure.
- CleanTech Acceleration Programme, to promote and support the creation of innovative products and services dedicated to clean technologies.
- HCB i-Management Platform, an intelligent management platform that brings together information from the different operations, allowing the analysis and monitoring of the project's main performance indicators, reinforcing the implementation of the HCB smart city strategy and allowing the development of scientific and analytical knowledge for advanced management of the city of Lisbon.
- HCB Sensing and Charging System, an infrastructure of poles equipped with occupancy and environmental sensors, closed-circuit sound and TV systems and soft mobility electric vehicle charging, complemented by a reference weather station and radiation sensors installed on the roofs of selected buildings.
- Creation of the HCB Data Lab, as a core of the City of Lisbon's Urban Data Lab (LxDataLab), dedicated to the challenges launched to the international scientific community in the HCB's priority areas of activity.
MOTIVATING BUSINESSES TO INTEGRATE SUSTAINABLE SOLUTIONS
"We want to transform the HCB into a 'smart campus' of excellence and contribute to improving the environmental sustainability of the project from the innovative operations we are launching today," says Miguel Fontes, executive director of Startup Lisboa. "And through this living lab, we also hope to motivate Lisbon's entrepreneurial ecosystem to integrate sustainable solutions into the creation and development of their businesses, as well as inspire the creation of new living labs in other entrepreneurship ecosystems." Indeed, the planned operations "will benefit the HCB entities and community, the local scientific and entrepreneurial communities, as well as informing local public policies".
From the beginning, Startup Lisboa "took sustainability as an essential dimension of the project", recalls Miguel Fontes.  "Therefore, the projects to be developed in the Living Lab intervene in four priority areas: energy, buildings, mobility and circular economy and environment, through nine structured operations that aim to fulfil its ambition of being a permanent living laboratory." On the other hand, "the project is based on the need for concerted action between the public and private sectors with a view to a just transition to a carbon-neutral society".
For the implementation of the Hub Criativo do Beato Living Lab, Startup Lisboa counts with the technical coordination of Lisboa E-Nova - Municipal Agency for Energy and Environment and the support of the Lisbon City Hall as the main partner, being the initiative partially funded (40%) by EEA Grants, in consortium with other partners - some of them HCB companies - such as Carris, Circular, DST Solar, Innovation Point, Mota-Engil Renewing, Praça, Prio, Schréder, The Browers Company and Watt-IS.
The global investment of the set of actions to be developed within the scope of this project reaches around two million euros by 2024. EEA Grants are a multi-annual financial mechanism through which Iceland, Liechtenstein and Norway support the EU member states with the largest deviations from the EU average GDP per capita.
The Hub Criativo do Beato is the space that will host one of the largest innovations and entrepreneurship hubs in Europe, with the creation of 3000 jobs and a global investment of 50 million euros. There are 18 buildings of recognised industrial and architectural value, which are being reconverted to receive several national and international companies in the areas of technology, innovation, and creative industries, to position Lisbon as an open, enterprising city of world reference. The implementation of the various phases of the project was delayed due to the Covid-19 pandemic.