Engineering & Construction
Environment
Telecommunications
Renewable energies
Ventures
Real estate
Explore our business areas
Photo by Luís Pinto, finalist of the Emergentes dst Award 2011.
Respect. (from the lat. respectu) n. 1. respect; 2. consideration; high regard; 3. deference; compliance; veneration; 4. honour; worship; 5. relation; refererence...
We believe that everyone should be respected for their work, for their attitudes, opinions and options.
Photo by Mila Teshaieva, finalist of the Emergentes dst Award 2011.
Rigor. (from the lat. rigore) n. 1. harshness; strength; 2.fig., severity; punctuality; accuracy.
There is no "more or less levelled", "more or less upright", "more or less clean" or "more or less safe", but rather "levelled", "upright", "clean" and "safe". The rigour is reflected in our procedures, in time and in the rules to follow. In the light of moral and principles, being severe means being rigorous.

Photo by , finalist of the Emergentes dst Award 2012.
Passion. (from the lat. passione) n. 1. intense and usually violent feeling (affection, joy, hate, etc.) which hinders the exercise of impartial logic; 2. derived from a feeling; 3. great predilection; 4. partiality; 5. great grief; immense suffering...
Under the sign of passion – a text of the Portuguese poet Regina Guimarães – is our icon. Passion is to reveal great enthusiasm for something, favourable encouragement or opposite to something.
It is the sensibility transmitted by an architect or engineer through work.
Passion is the dedication to a project. Passion is a state of warm soul.
Photo by Jakub Karwowski, finalist of the Emergentes dst Award 2012.
Loyalty. (from the lat. legalitate) n. the quality of being loyal; fidelity; sincerity.
Respect for the principles and rules that guide the honour and probity. Faithfulness to commitments and agreements undertaken, staunch character.
To remain loyal to the business partners because we depend on them and they depend on us.
Being trustworthy for being loyal.
Photo by Ian Lieske, finalist of the Emergentes dst Award 2011.
Solidarity. (from the lat. solidare) n. 1. the quality of being solidary; 2. reciprocal responsibility among the members of a group, namely social, professional, etc.; 3. sense of sharing another's suffering.
Being solidary is being a friend, offering our hand with genuine generosity and bringing joy and human warmth to those who, somehow, are marginalized. Being solidary is being more human. A solidary company is recognized as a fair and non-selfish company. A solidary company is a preferred choice in business. It is a more competitive company. Volunteering is a vehicle to solidarity. It is modern, fair, cultured, friend, it is a noble gesture of moral elevation.
Photo by Clarence Gorton, finalist of the Emergentes dst Award 2012.
Courage. (from the lat. coraticum) n. 1. bravery facing danger; intrepidity; to have audacity; 2. moral force before a suffering or setback; 3. [fig.] to input energy when performing a difficult task; perseverance...
Courage is essential in our life. Courage to face less pleasant situations when complex issues come up, not expecting random resolutions.
It is a value that we must highlight as opposed to the fearful, cowardly and laziness.
The courage to react to criticism not with an attitude of demotivation or sadness, but rather to search for the means and the action to overcome its own reason. This kind of courage, which is also an intellectual courage, is highly recommended.
Photo by Filipa Alves, finalist of the Emergentes dst Award 2011.
Ambition. (from the lat. ambitione) n. 1. vehement desire of wealth, honours or glories; 2. expectation about the future; aspiration; 3. lust; greed…
Vehement desire to achieve a particular goal. Ambition not to resign ourselves. Ambition to take the best potential from ourselves. Ambition to deserve ourselves. Ambition to be athletes in our top-level competitive jobs. Ambition to beat our brands. Ambition to get the best deals with the maximum value, due to the high levels of proficiency and efficiency.
Photo by Scarlett Coten, finalist of the Emergentes dst Award 2011.
Esthetics. ESTHETICS (from the Greek aisthetiké, "sensitive") n.f. 1. Philosophy branch of philosophy that studies the beauty and nature of artistic phenomena; 2. author's own style, time, etc.; 3. harmony of shapes and colors, beauty; 4. set of techniques and treatments that aim to beautify the body.
We decided to build the company's economic foundations under a cultured, cosmopolitan and cool image. Because it is a charming state of being. Good taste because we are sustainable and we respect the planet. Good taste because we are sensitive. Good taste just because.
Photo by Karl Erik Brondbo, finalist of the Emergentes dst Award 2011.
Responsibility. (from the lat respondere) n. the trait of being answerable to someone for something or being responsible for one's conduct; a form of trustworthiness.
We must be certain that, before a choice, we chose what is best for both of us and not just the best for each one. Each employee is responsible for his negotiated activity and co-responsible if the co-worker does not fulfil his own task, thus preventing the common goal. A team is a set of individuals - is a whole. In the business game, as in social or family contexts, everyone must comply with their own relative position and we shall not permit that one of ours fails to be in our team.
News
Press Room
Innovation must be fully democratic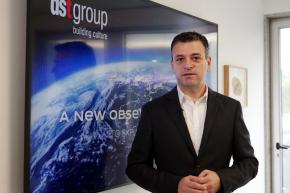 06/02/2021
Innovation must be fully democratic
Correio do Minho 
JOÃO MATOS is an executive director of dstgroup. He is in charge of areas such as research and innovation. In an interview with Correio do Minho and Rádio Antena Minho, he makes a report of seven major research projects co-financed by European funds and in which the business group is involved with other partners. João Matos also highlights the weight of internal innovation in the dstgroup. Half a thousand employees participate in almost a hundred projects.
Q - The 'dstgroup' has innovation as one of the pillars of its growth and development strategy. What characterizes and differentiates the group's innovation ecosystem?
A - What makes a difference is precisely being an ecosystem and not just one or two areas that are worked on. It is a very broad system that allows the creation of mechanisms for interaction and cooperation between stakeholders, whether internal or external, with different characteristics and knowledge. Why do we say it is an ecosystem? We have a pillar which is the connection to the academia, we have the pillar of innovation and our innovation management system, we have another pillar which is entrepreneurship and the connection to venture capital, and also the research and development pillar carried out usually in partnership with universities and other entities in the scientific system.
Q - Can we say that the 'dstgroup' does not have an innovation department and that the entire group works with the duty to innovate?
A - Yes, this is our organisational model. We do not confine innovation to a cabinet and a group of people. We have two people who are 'innovation managers', we have innovation groups and we also have the so-called LIM, who are local innovation managers. We have the interpretation of innovation in all workers. We think that innovation must be fully democratic. We want to have the greatest possible granularity, reach the largest number of people within the organisation, and get their contribution.
Q - What is the importance of 'living lab' within the DST industrial complex? How does it come about?
A - Our 'living lab' arises from the need to test different technologies and different solutions. Since we have a large industrial complex, we can test a set of solutions that we want to bring to the market. For example, we have a solution for sensing rivers, and it was possible to test and develop it within our industrial complex because we have a small watercourse that runs through the industrial complex. We have a platform, Mosaic, that aggregates all the internet of things (IoT) solutions that we have developed, that we are testing and adding layers. In 'living lab' we test air quality and photovoltaic energy production, we detect ecopoints, lighting and car parks, we have charging stations for electric vehicles, we have a weather station, in short, a whole range of variables.
Q - Is your industrial complex a large laboratory that you have available?
A - Yes. It is a great living laboratory of technology and a great art space as well.
Q - There is a concern of the 'dstgroup' to invest in Culture. As a manager, how do you evaluate this option? Isn't it just marketing?
A - No. On the contrary, it is a bet that has been around for many years. When I joined the group 14 years ago, it was already like that and has been deepened. This bet brings great benefits to the functioning of the organisation and the development of the business, because art encourages creativity a lot, and there is no innovation without creativity. The Philosophy course that we are developing at the moment, with a duration of two years, consumes time for people, but it is time invested in the formation of other skills that are fundamental in the development of the work.
Q - The dstgroup is not just a patron of structures and artistic projects of the surrounding community. Is it a bet that you want to have it within the group?
A - It is a bet not only on the outside, it is built daily, inside doors and is not limited to physical spaces. Even our 'innovation talks' are different. The last three were dedicated to music. Maybe they'd be waiting for something technological, but this year it wasn't.
 Digitisation is transversal to all our research projects
Q - The dstgroup has entered into strategic partnerships with higher education and research institutions. Can we talk about a 'DST academia'?
A - We do not have a formal academia. We have a strong connection to vocational training and higher education centres, there is a strong commitment to strengthening the capacities of our staff. We have training focused on technical skills, but also management and behavioural skills. An example of this is the training courses that are taking place in Philosophy and Neurosciences. We have done courses with the University of Minho, Porto Business School, and the Portuguese Catholic University. We have two professorships with the University of Minho. We promote people to do doctorates and master's degrees. We seek to find new leaders within doors and make people grow within their professional careers. There is no formalisation of an academia, but there is in fact an academia.
Q - You mentioned two areas that may be, at the outset, 'foreign' to the business world and to a group that is mainly industrial: Philosophy and Neurosciences. Are there any objective gains with this type of training?
A - I am convinced that there are because we shape other competences than just techniques. It is not possible to have good professionals if, in addition to technical skills, there are no behavioural skills. As I said, Philosophy helps a lot in the formation of creativity, critical judgment, and the formation of an opinion. It helps not to stay on the technical wisdom that you already have.
Q - When we talk about productivity, do we have to talk about this type of tools?
A - The immediate effect may be a drop in productivity. For example, in the Philosophy course, for one hour, 300 people, 52 weeks for two years, are allegedly not producing. This is the immediate reading, but we are more concerned with the medium and long term. These hours will translate into greater production capacity with greater added value. It is necessary to look beyond the immediate.
Q - You have recently stated that "in universities and research centres, there is a lot of knowledge that is being generated and that can help us, with our experience and with the know-how we have, we managed to give the business vision to these projects. "  Have you been able to achieve these challenges?
A - We have entered another pillar of our activity, which is entrepreneurship. In this area, we have the company DST Ventures, through the venture capital management company 2bpartner, which manages a venture capital fund, Minho Innovation Internationalisation, which is, however, closed and is in the monitoring phase of the subsidiaries. But, since 2009, we have been able to support several projects. Currently, dstventures supports projects directly and closer to our business, of which Level is an example, which arises from the connection to universities and BIM+.
Q - What are the main research projects that the dstgroup has underway, in partnership with other companies and research institutions?
A - Since the end of 2019, we have seven co-financed research and development projects. Digitisation is transversal to all of them. Starting with the energy area, we have the 'Baterias 2030' project, which basically sees batteries as a central element for urban sustainability. It is intended to test batteries of the future based on renewable energy from various sources. This project has a budget of 8.5 million, the leader is the solar company, which has several scientific partners: University of Minho, INESC TEC, University of Porto, Higher Technical Institute, CENTITVC, LNEG, CEIIA and INESC MN, among several other companies, in a total of almost 30 partners. Another project, the 'Building HOPE' results from international partnerships, namely with Carnegie Mellon University, in addition to the Higher Technical Institute and the University of Minho. The leader is also dstsolar and has a budget of three million euros. Here, the aim is to create a tool to holistically optimize energy production and consumption, especially in commercial buildings. Still, within the domain of international partnerships, we have the K2D project with MIT Portugal. The leader is dstelEcom, has a budget of three million euros and partners are the University of Minho, INESC TEC, University of Açores, University of Algarve, Air Centre and, of course, MIT, monitoring and analysing terrestrial systems, especially in the oceans, and the results of impacts on human activity. Why dstelecom? Because at the bottom of the sea we have an infrastructure that is submarine cables and, contrary to what people think, most of the internet traffic, about 97%, goes through submarine cables. But these cables are blind and deaf, and we want to make them smarter and more capable of sensing the ocean, combining this sensing with autonomous underwater vehicles. Our interest is to bring information to scientists.
Q - What stage are these three projects at?
A - In the start-up phase.
Q - Do you want to do a short X-ray of the remaining four projects?
A - In the Aeros Constellation project we are not a leader, it is the Edisoft company. It is an international partnership with MIT that aims at the development of a nanosatellite that is the precursor to a constellation of small satellites, which have a low cost in their launch, which remain less time in space, but that allows a collection of relevant information. Then we have two projects in the fields of construction and circular economy. One of them is RENEw-Residuos in the construction of a circular economy. It aims at the development of structural concrete and bituminous concrete from waste. Here the leader is dst, in partnership with the University of Minho, University of Trás-os-Montes and Alto Douro e | Centre for Waste Recovery. Another project is CirMat, the industrial development of construction materials from construction waste. The promoter is also dst. More recently, we have a project by Level, GeoCrit - New Generation Systems for monitoring and management of critical geotechnical infrastructures, that is, it is intended to monitor slopes and walls to anticipate problems arising from landslides fuelled by climate change.
Q - Did the ideas of these projects come from the dstgroup or were they challenges to the group?
A - There is a dialogue that we intend to be as permanent and flexible as possible with these entities that allow mutual knowledge. Thus, some are challenges that have been made by entities of the scientific system and others come from us.
Q - In addition to addressing cutting-edge areas in the field of digital and telecommunications, there are also projects linked to the origin of the dstgroup. The chairman of the board of directors, José Teixeira, makes a point of referring to the stone as the group's origin. Is it important to maintain this identity?
A - I think so. It is very good not to forget our origins, either in a business context or in a personal context. We can work on this origin in several ways, it does not have to be reductive. There is a lot of technology that we can use on top of stone or matter.
Q - Can innovation be done in an activity that is seen as traditional?
A - Of course. There is a lot of space for innovation, whether in terms of materials, creation of new processes. Today [February 4th] SKA is launched, a project to scan the space for collecting information in which Portugal is one of the founding countries. We are trying to do our part in this project, combining the information that has to be transmitted through a connectivity infrastructure, the energy for systems that will be in the desert and software.
Q - We are starting a new Community Framework. dstgroup will be on the lookout for new funding opportunities. What prospects do you have at this time?
A - We have to be attentive. The projects that we are developing are already very much framed in what will be the new 'call': the 'green deal' and sustainability. In fact, sustainability has always been present in the dstgroup. The new community framework will be very much in line with what we are doing.
Q - And are they able to present new projects since the ones you mentioned are in an initial phase?
A - We still have some candidate projects for which we do not know the results. In addition to this, we have internal innovation projects. We have 450 to 500 people involved in almost 100 small innovation projects.
Q - Group self-financing projects?
A - Yes. There are more immediate, incremental innovation projects to solve certain problems. Others that are medium and long term and aim to increase revenue, reduce costs, or increase productivity. Or more disruptive projects, products or services that will be consumed in the future and that we are already working on internally. These projects may or may not evolve into projects co-financed with other partners.
Q - Is it possible to calculate the investment that the dstgroup makes in innovation, or is this difficult since such an ecosystem is transversal?
A - An easy part to quantify is the investment in these co-financed projects and venture capital projects. The volume of hours that 450 to 500 people spend on innovation projects is difficult to quantify. Therefore, it is difficult to quantify the group's total investment in innovation, research, and development.
Q - Do these projects, internal and external, influence more strategic decisions of the dstgroup, in the sense of advancing to new business areas?
A - There is a very strong interaction between the two. Our first item on the agenda on all boards of directors is innovation. Only afterwards will we discuss numbers, the short term, sales, costs, and other indicators.
 The pandemic has accelerated trends in digitisation and remote work
Q - It is inevitable not to talk about the pandemic that, to a greater or lesser extent, affects the lives of organisations and companies. Specifically, in the area of innovation, to what extent can constraints and restrictions affect the development of your projects?
A - There was an initial adaptation phase. Fortunately, in the group, we already had several tools that allowed us to work remotely and which, perhaps, were not as explored. In the initial phase, there was an adaptation to the shock. At the moment, all projects are proceeding as expected. We have remote meetings between all the participants. There will be a part that will require greater effort which is the physical component of the projects. Some projects will require physical facilities, which will have an impact. We have never stopped our production with every security. A great effort has been made to provide all security conditions so that all people can continue to work.
Q - The management of the dstgroup has highlighted the fact that it has not stopped and even had some increase in activity and hiring. Is it important, after the shock phase before the pandemic strikes, to enter certain normality? Will business organisations have to change anything?
A - Inevitably, we will have changes. I think the pandemic has accelerated a trend that was already there: digitisation. What the pandemic did was to accelerate some trends and paths that would take more years to execute. The trend of remote work will remain, not with the same intensity as now for sure. Both parties, employers, and workers, look at remote work differently. The multiplicity of meetings we had and the low productivity we had, especially for those who are furthest from the decision-making centres, that happened. In the last few years, I don't know how many times I went to Lisbon to have an hour or two meetings, despite all the agenda planning. Currently, it was realized that it is not necessary to have such a large number of meetings and that it is necessary to optimize. From that point of view, things will also change. Obviously, personal contact is very important, and this will not be replaced by digital, but digital will grow in its space and its use.
Q - In the end, has this pandemic made it possible to overcome some obstacles and resistance that could still exist in the path of digitalisation?
A - I think so. It accelerated and made companies that were worse prepared to prepare. Whoever did not have a platform to communicate easily, you have to acquire it, there was no way. We already had this tool. We had to create new processes and new routines. For example, we started to have a daily meeting, very short, all the work teams, at the beginning of the day, in which there is a sharing of what each one will do because there is no possibility to bring everyone together throughout the day as it happened before the pandemic. It is a way to maintain contact and proximity to the workgroup and keep the planning up to date.
 PROFILE
JOÃO MARTINS NEGRAIS DE MATOS has been executive director of dstgroup since August 2007 and, since March 2014, executive director of holding dst sgps, SA. In this business group based in Braga, he is responsible for Risk Management and Control, Financial Incentives, Enterprises, Research and Innovation and Information Systems. He has a degree in Economics from the Faculty of Economics of the University of Porto and a master's degree in Science in Finance from Boston College. He is a financial analyst accredited by the CFA Institute and a financial risk manager by the Global Association of Risk Professionals.