Engineering & Construction
Environment
Telecommunications
Renewable energies
Ventures
Real estate
Explore our business areas
Photo by Luís Pinto, finalist of the Emergentes dst Award 2011.
Respect. (from the lat. respectu) n. 1. respect; 2. consideration; high regard; 3. deference; compliance; veneration; 4. honour; worship; 5. relation; refererence...
We believe that everyone should be respected for their work, for their attitudes, opinions and options.
Photo by Mila Teshaieva, finalist of the Emergentes dst Award 2011.
Rigor. (from the lat. rigore) n. 1. harshness; strength; 2.fig., severity; punctuality; accuracy.
There is no "more or less levelled", "more or less upright", "more or less clean" or "more or less safe", but rather "levelled", "upright", "clean" and "safe". The rigour is reflected in our procedures, in time and in the rules to follow. In the light of moral and principles, being severe means being rigorous.

Photo by , finalist of the Emergentes dst Award 2012.
Passion. (from the lat. passione) n. 1. intense and usually violent feeling (affection, joy, hate, etc.) which hinders the exercise of impartial logic; 2. derived from a feeling; 3. great predilection; 4. partiality; 5. great grief; immense suffering...
Under the sign of passion – a text of the Portuguese poet Regina Guimarães – is our icon. Passion is to reveal great enthusiasm for something, favourable encouragement or opposite to something.
It is the sensibility transmitted by an architect or engineer through work.
Passion is the dedication to a project. Passion is a state of warm soul.
Photo by Jakub Karwowski, finalist of the Emergentes dst Award 2012.
Loyalty. (from the lat. legalitate) n. the quality of being loyal; fidelity; sincerity.
Respect for the principles and rules that guide the honour and probity. Faithfulness to commitments and agreements undertaken, staunch character.
To remain loyal to the business partners because we depend on them and they depend on us.
Being trustworthy for being loyal.
Photo by Ian Lieske, finalist of the Emergentes dst Award 2011.
Solidarity. (from the lat. solidare) n. 1. the quality of being solidary; 2. reciprocal responsibility among the members of a group, namely social, professional, etc.; 3. sense of sharing another's suffering.
Being solidary is being a friend, offering our hand with genuine generosity and bringing joy and human warmth to those who, somehow, are marginalized. Being solidary is being more human. A solidary company is recognized as a fair and non-selfish company. A solidary company is a preferred choice in business. It is a more competitive company. Volunteering is a vehicle to solidarity. It is modern, fair, cultured, friend, it is a noble gesture of moral elevation.
Photo by Clarence Gorton, finalist of the Emergentes dst Award 2012.
Courage. (from the lat. coraticum) n. 1. bravery facing danger; intrepidity; to have audacity; 2. moral force before a suffering or setback; 3. [fig.] to input energy when performing a difficult task; perseverance...
Courage is essential in our life. Courage to face less pleasant situations when complex issues come up, not expecting random resolutions.
It is a value that we must highlight as opposed to the fearful, cowardly and laziness.
The courage to react to criticism not with an attitude of demotivation or sadness, but rather to search for the means and the action to overcome its own reason. This kind of courage, which is also an intellectual courage, is highly recommended.
Photo by Filipa Alves, finalist of the Emergentes dst Award 2011.
Ambition. (from the lat. ambitione) n. 1. vehement desire of wealth, honours or glories; 2. expectation about the future; aspiration; 3. lust; greed…
Vehement desire to achieve a particular goal. Ambition not to resign ourselves. Ambition to take the best potential from ourselves. Ambition to deserve ourselves. Ambition to be athletes in our top-level competitive jobs. Ambition to beat our brands. Ambition to get the best deals with the maximum value, due to the high levels of proficiency and efficiency.
Photo by Scarlett Coten, finalist of the Emergentes dst Award 2011.
Esthetics. ESTHETICS (from the Greek aisthetiké, "sensitive") n.f. 1. Philosophy branch of philosophy that studies the beauty and nature of artistic phenomena; 2. author's own style, time, etc.; 3. harmony of shapes and colors, beauty; 4. set of techniques and treatments that aim to beautify the body.
We decided to build the company's economic foundations under a cultured, cosmopolitan and cool image. Because it is a charming state of being. Good taste because we are sustainable and we respect the planet. Good taste because we are sensitive. Good taste just because.
Photo by Karl Erik Brondbo, finalist of the Emergentes dst Award 2011.
Responsibility. (from the lat respondere) n. the trait of being answerable to someone for something or being responsible for one's conduct; a form of trustworthiness.
We must be certain that, before a choice, we chose what is best for both of us and not just the best for each one. Each employee is responsible for his negotiated activity and co-responsible if the co-worker does not fulfil his own task, thus preventing the common goal. A team is a set of individuals - is a whole. In the business game, as in social or family contexts, everyone must comply with their own relative position and we shall not permit that one of ours fails to be in our team.
News
Press Room
João de Melo wins dst Literature Grand Prize with Livro de Vozes e Sombras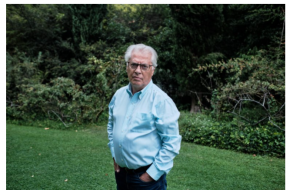 19/05/2021
João de Melo wins dst Literature Grand Prize with Livro de Vozes e Sombras
Considered one of the best books of last year by Ípsilon, Livro de Vozes e Sombras (Book of Voices and Shadows) has the Azores at the centre of its narrative.  The prize will be presented at the Braga Book Fair, in July.
The novel Livro de Vozes e Sombras (Book of Voices and Shadows), by João de Melo, has won the 26th edition of the dst Literature Grand Prize, the organisation announced on Tuesday. The jury highlighted the "refined sense of composition and writing quality".
The decision of the jury, constituted by professor and writer Vítor Aguiar e Silva, the president of the Portuguese Writers' Association, José Manuel Mendes, and professor of the University of Minho Carlos Mendes de Sousa, was unanimous. The prize has a cash value of 15.000 euros.
The jury, according to a press statement sent to Lusa, highlighted the "refined sense of composition and the quality of writing in the development of a novel that, going through several geographical and social spaces, as well as convulsed times, traces a dense collective memory, averse to any schematism, from a fairy tale nuclei, in which characters of great finesse and contrasting power stand out".
With the Azores, where João de Melo was born, at the centre of the narrative, Livro de Vozes e Sombras (Book of Voices and Shadows) is a work about the revolutionary aspirations of post-April 25, 1974, lived between the Azores, Lisbon and the African nations, which were under Portuguese administration. The prize is awarded during the Braga Book Fair, scheduled between the 9th and 25th of July.
João de Melo, 72, published his first short story at the age of 18 in the Diário Popular newspaper. His experience as a military man in the colonial war (1961-1974) is reflected in the novel Autopsia de Um Mar de Ruínas (Autopsy of a Sea of Ruins), 1984, whose 9th edition was published in 2019.
With a degree in Romance Philology from the Faculty of Arts of the University of Lisbon, João de Melo regularly collaborated with magazines such as Colóquio-Letras, Vértice and, later, Sílex e Ler, among other publications.
In 1988 he published Gente Feliz com Lágrimas (Happy People with Tears), which won him several national and international awards, such as the Grand Prize of Romance and Novel/1989, the Fernando Namora Award and the Cidade de Lisboa/Eça de Queiroz Award, as well as the Cristóbal Colón Award of the Ibero-American Capital Cities. This novel was staged by the theatre group O Bando and adapted for television by the director José Medeiros.
His work gathers about twenty titles, from the short stories of Histórias de Resistência (1975), to the stories of Os Navios da Noite (The Ships of the Night), that preceded the novel now awarded, passing through poetry (Navegação da Terra), essay (Literatura e Identidade, among other titles) and travels (Açores, o Segredo das Ilhas).
O Meu Mundo Não é Deste Reino (My World Is Not of This Kingdom), Bem Aventuranças (The Beatitudes), O Homem Suspenso (The Hanging Man), O Mar de Madrid (The Sea of Madrid), Lugar Caído no Crepúsculo (Fallen Place in Twilight) are other works in a literary career that spans over 40 years, and which has reached countries such as Germany, Bulgaria, Colombia, Spain, the United States of America, France, Hungary, Italy, Mexico, the Netherlands, the United Kingdom and Northern Ireland, Romania, Serbia. Among other functions, João de Melo was a cultural adviser at the Portuguese embassy in Madrid.
The dst Literature Grand Prize aims to distinguish "original works, in two literary genres, written in Portuguese by Portuguese authors, thus contributing to the promotion and valorisation of Portuguese language literature". Last year, the award was aimed at the area of poetry and the winner was Fernando Guimarães for the title Junto à Pedra.