Engineering & Construction
Environment
Telecommunications
Renewable energies
Ventures
Real estate
Explore our business areas
Photo by Luís Pinto, finalist of the Emergentes dst Award 2011.
Respect. (from the lat. respectu) n. 1. respect; 2. consideration; high regard; 3. deference; compliance; veneration; 4. honour; worship; 5. relation; refererence...
We believe that everyone should be respected for their work, for their attitudes, opinions and options.
Photo by Mila Teshaieva, finalist of the Emergentes dst Award 2011.
Rigor. (from the lat. rigore) n. 1. harshness; strength; 2.fig., severity; punctuality; accuracy.
There is no "more or less levelled", "more or less upright", "more or less clean" or "more or less safe", but rather "levelled", "upright", "clean" and "safe". The rigour is reflected in our procedures, in time and in the rules to follow. In the light of moral and principles, being severe means being rigorous.

Photo by , finalist of the Emergentes dst Award 2012.
Passion. (from the lat. passione) n. 1. intense and usually violent feeling (affection, joy, hate, etc.) which hinders the exercise of impartial logic; 2. derived from a feeling; 3. great predilection; 4. partiality; 5. great grief; immense suffering...
Under the sign of passion – a text of the Portuguese poet Regina Guimarães – is our icon. Passion is to reveal great enthusiasm for something, favourable encouragement or opposite to something.
It is the sensibility transmitted by an architect or engineer through work.
Passion is the dedication to a project. Passion is a state of warm soul.
Photo by Jakub Karwowski, finalist of the Emergentes dst Award 2012.
Loyalty. (from the lat. legalitate) n. the quality of being loyal; fidelity; sincerity.
Respect for the principles and rules that guide the honour and probity. Faithfulness to commitments and agreements undertaken, staunch character.
To remain loyal to the business partners because we depend on them and they depend on us.
Being trustworthy for being loyal.
Photo by Ian Lieske, finalist of the Emergentes dst Award 2011.
Solidarity. (from the lat. solidare) n. 1. the quality of being solidary; 2. reciprocal responsibility among the members of a group, namely social, professional, etc.; 3. sense of sharing another's suffering.
Being solidary is being a friend, offering our hand with genuine generosity and bringing joy and human warmth to those who, somehow, are marginalized. Being solidary is being more human. A solidary company is recognized as a fair and non-selfish company. A solidary company is a preferred choice in business. It is a more competitive company. Volunteering is a vehicle to solidarity. It is modern, fair, cultured, friend, it is a noble gesture of moral elevation.
Photo by Clarence Gorton, finalist of the Emergentes dst Award 2012.
Courage. (from the lat. coraticum) n. 1. bravery facing danger; intrepidity; to have audacity; 2. moral force before a suffering or setback; 3. [fig.] to input energy when performing a difficult task; perseverance...
Courage is essential in our life. Courage to face less pleasant situations when complex issues come up, not expecting random resolutions.
It is a value that we must highlight as opposed to the fearful, cowardly and laziness.
The courage to react to criticism not with an attitude of demotivation or sadness, but rather to search for the means and the action to overcome its own reason. This kind of courage, which is also an intellectual courage, is highly recommended.
Photo by Filipa Alves, finalist of the Emergentes dst Award 2011.
Ambition. (from the lat. ambitione) n. 1. vehement desire of wealth, honours or glories; 2. expectation about the future; aspiration; 3. lust; greed…
Vehement desire to achieve a particular goal. Ambition not to resign ourselves. Ambition to take the best potential from ourselves. Ambition to deserve ourselves. Ambition to be athletes in our top-level competitive jobs. Ambition to beat our brands. Ambition to get the best deals with the maximum value, due to the high levels of proficiency and efficiency.
Photo by Scarlett Coten, finalist of the Emergentes dst Award 2011.
Esthetics. ESTHETICS (from the Greek aisthetiké, "sensitive") n.f. 1. Philosophy branch of philosophy that studies the beauty and nature of artistic phenomena; 2. author's own style, time, etc.; 3. harmony of shapes and colors, beauty; 4. set of techniques and treatments that aim to beautify the body.
We decided to build the company's economic foundations under a cultured, cosmopolitan and cool image. Because it is a charming state of being. Good taste because we are sustainable and we respect the planet. Good taste because we are sensitive. Good taste just because.
Photo by Karl Erik Brondbo, finalist of the Emergentes dst Award 2011.
Responsibility. (from the lat respondere) n. the trait of being answerable to someone for something or being responsible for one's conduct; a form of trustworthiness.
We must be certain that, before a choice, we chose what is best for both of us and not just the best for each one. Each employee is responsible for his negotiated activity and co-responsible if the co-worker does not fulfil his own task, thus preventing the common goal. A team is a set of individuals - is a whole. In the business game, as in social or family contexts, everyone must comply with their own relative position and we shall not permit that one of ours fails to be in our team.
News
Press Room
Porto's modern architecture is having a moment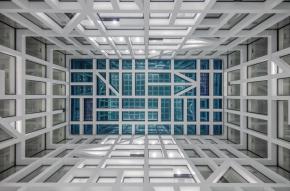 28/08/2019
Porto's modern architecture is having a moment
Wallpaper*
Instagram would have you believe that Porto is all Baroque tiles and towers — and to be fair, a lot of it is. A boom in tourism has revitalised the old city centre after decades of depopulation and dereliction. New businesses and cafes are popping up, restoring the oldest buildings and polishing the azulejo facades that visitors love.
But let's not overlook the work that went into this boom: the years of investment, beginning with Porto's designation as a 2001 European Culture Capital; the cultivation of homegrown architectural talent at the Porto School of Architecture (with Pritzker-winning alumnae like Álvaro Siza Vieira and Eduardo Souto de Moura); and the efforts to elevate new infrastructure with designs from the international greats. Kengo Kuma and Associates in collaboration with OODA, for example, won a competition in 2018 to transform the Porto Slaughterhouse, which has been abandoned for 20 years, into spaces for art, performance, and archives under an undulating ceramic roof.
Porto has seen museums, concert halls, and an entire metro system join its churches and bookshops as architectural highlights in the past 25 years, and it's keeping the momentum up. Local practices overflow with restorations and reclamations as boutique hotels or private homes make the most of the unusual spaces offered by Porto's old centre. The larger projects tend to be a mix of residential and new hotels — while civic works try to walk the line between catering for the tourist boom and creating good spaces for locals.
Here, we compile a selection of architectural projects catering to this renewed interest in Porto
The Interpretation Centre of the Romanesque, Lousada, by Spaceworkers
The Romanesque heritage of Northern Portugal is celebrated by the contents of this museum as well as the space itself. Each of the seven towers represents a different way Romanesque buildings used their space, from great vaults and arches to small side chapels.
House In Rua do Paraíso by Fala
A classic 19th century Porto house — narrow to minimise property tax — the renovation's green marble expresses the same richness as the tiled facade would have done, making the most of the unusual volumes. The vivid geometric stripes and circles outside continue in the interior, comprising four studio flats and a common garden. Photography: Ricardo Loureiro.
Monverde Wine Experience Hotel, Amarante, by Fernando Coelho
Upriver from Porto, this carbon-neutral hotel and winery recently expanded, adding a new wing of granite and pine guest rooms half submerged under a network of vine trellises. The terraces and flat roofs blend into the vines, while the interior's soft greens and glass walls bring views of the Douro Valley right up to you.
Museums of Santo Tirso by Álvaro Siza Vieira and Eduardo Souto de Moura
The Monastery of São Bento, a little way from central Porto, is a 17th century beauty that houses the Municipal Museum of Abade Pedrosa. An added wing contains the International Contemporary Sculpture Museum. The project is a total collaboration: between Vieira and de Moura, between the restored Baroque and the minimal new wing, and between the local heritage of one museum and the international sculpture of the second. Photography: Joao Morgado.
Urbo Business Centre by Nuno Capa Arquitecto
The hub for offices and services in central Porto is wrapped in a geometric concrete facade. The scheme is centred on a foyer that's more like a forum. Photography: Joao Morgado